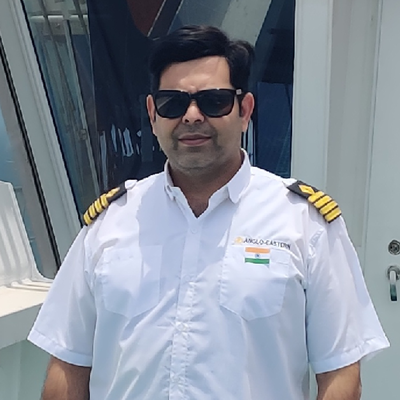 About Abhinav Pachauri:
To maintain a challenging career in an organization of repute that values technical excellence, recognizes
achievements, and has excellent advancement opportunities where my skills, experience and potential can be
utilized. To work and successfully contribute to your organization with the use of academic and practical
experience gained over the period of 20 years at sea in National and International Waters.
Experience
Master Mariner
Overall Incharge of the entire Ship. Liaise with all two department Heads (Chief
Engineer and Chief Officer) for effective and smooth running of the vessel. Liaise
with Owners, Charterers, Various country Port Officials, Auditors, Inspectors for
seamless and problem free running of the vessel. Liaise with all Shore Departments
(HR, Accounts, Technical, Operations, QHSE) as the basic link handling all the same
jobs onboard. Job requires constant and immediate decision making. Have been
Commanding on Large Vessels above 8500TEU.
2017 – present
Chief Mate
Have sailed as Chief Mate in Container Fleet being the head of Deck and Saloon
department. Management and Job assigning of Operational Level Officers and all
crew. Incharge of Training of juniors.
2012 – 2017
Second Officer
An Operational Level Officer handling Safety of Navigation and planning.
2007 – 2012
Third Officer
An Operational Level Officer maintaining all Life Saving and Fire Fighting plus Safety
related items onboard
2006 – 2007
Deck Cadet
A Trainee Level Officer
2002 – 2005
 
Education
Equivalence to Bachelor of Science (Nautical Science), University of Mumbai Nov 2018
Mumbai, India
Master FG Advanced Shipboard Management,
Fosma Maritime Institute & Research Organisation
Sep 2014 – Oct 2014
Noida, India
Chief Mate (FG) - Phase II, Natcom Education & Research Foundation Jan 2010 – Apr 2010
Gurugram, India
Chief Mate (FG) - Phase I, Applied Research International Mar 2008 – Jun 2008
New Delhi, India
Second Mate (FG) Competency Course, Applied Research International Oct 2005 – Feb 2006
New Delhi, India
Pre Sea Training for Deck Cadets, Applied Research International Sep 2001 – Jan 2002
New Delhi, India
10+2, Senior Secondary, Vishwa Bharati Public School 2000
Noida, India
Professionals in the same Transportation / Logistics sector as Abhinav Pachauri
Professionals from different sectors near Noida, Gautam Buddha Nagar
Other users who are called Abhinav
Jobs near Noida, Gautam Buddha Nagar
Found in: Talent IN - 5 days ago

---

Genpact

Gurugram

Full time

With a startup spirit and 90,000+ curious and courageous minds, we have the expertise to go deep with the world's biggest brands—and we have fun doing it. · Now, we're calling all you rule-breakers and risk-takers who see the world differently, and are bold enough to reinvent it. ...

Found in: Talent IN - 1 day ago

---

Cadence Design Systems, Inc.

Noida

Full time

At Cadence, we hire and develop leaders and innovators who want to make an impact on the world of technology. · • Ensures the availability, reliability, scalability, and manageability of the data storage environment · • Works with key technical and business stakeholders to dete ...

Found in: Talent IN - 3 days ago

---

Cardtronics UK

Gurugram

Full time

About NCR · NCR Corporation (NYSE: NCR) is a leader in transforming, connecting and running technology platforms for self-directed banking, stores and restaurants. NCR is headquartered in Atlanta, Ga., with 38,000 employees globally. NCR is a trademark of NCR Corporation in the ...