10 Most Valuable KPIs For SEO to Track SEO Success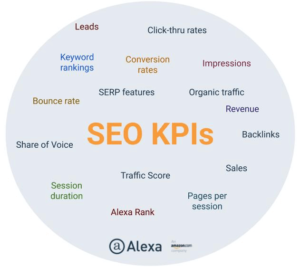 So, you think you finally made a perfect website? You've invested heavily in custom web page design and content marketing. Your research was flawless and you got to know your target audience closely. What's the next step? How can you tangibly prove your worth? There are many definitions for success, but demonstrating your real value is a one-way street, and KPIs for SEO are your road map. You can get in touch with a SEO Company Delhi ,Noida or Gurgaon to know about the important KPIs for your business and take help in improving your business goal.
What is a KPI?
A KPI (Key Performance Indicator) is a measurable value that demonstrates a company's efficiency in achieving its key business objectives. Organizations/Companies use various KPIs at multiple levels to evaluate their success in reaching said objectives with accuracy.
Mind you, KPIs aren't simple business metrics to fill in your Excel/Google sheets every month. They're key measures that tend to have a massive impact on your company's strategy. When referring to your SEO strategy, they provide an invaluable insight into your long-term objectives. They incite (if needed) actionable course correction and data-driven measures to reach your strategic goals. 
How to Define KPIs
Defining your KPIs may sound straightforward, but it's far from it. They are "key" performance indicators for a reason. Every single KPI should relate to a specific business outcome, with a measure of performance. For that very reason, KPIs are often confused with business metrics. 
When defining your KPIs, follow these steps:
What is the desired outcome?
Why does said outcome matter?
How can you influence the outcome?
Who is responsible for the outcome?
How will you know whether you've achieved the desired outcome?
How often will you review your progress towards the end goal?
Ambition is rooted in every metric, but when setting your desired KPIs, be sure to reach achievable goals. A target that's too high can backfire and leave your team discouraged before they even begin to tackle it. On the flip side, set your target too low, and you'll quickly find yourself asking what to do with the rest of your time. 
Start by assessing your current performance. You're not gunning for numbers. They are not the end goal but a reflection of your efforts. KPIs aren't set in stone. It's only natural which continually changes and evolves if needed. Otherwise, you're reaching for a goal that may no longer be relevant.
What are the most important KPIs when it comes to estimating the success of your SEO and content marketing efforts? We present the top 10 most valuable SEO KPIs you should be tracking according to the top SEO companies.
1. Organic Traffic
Organic traffic refers to the site visits from a search engine (such as Google or Bing). It does not include referrals or paid traffic (links via another website and/or ads/CTAs). Organic traffic is one of the most valuable SEO KPIs to consider, as its growth shows whether you have reached your main SEO objective: growing the audience seeing and visiting your website. 
You can measure your organic traffic growth in Google Analytics, which may help you pinpoint potential reasons for that growth. For example, as your marketing efforts start to pay off, that increased brand awareness will bring more traffic to your website, and you'll witness more searches for your brand name and/or products as a result.
2. Targeted Keywords and Their Ranking
Keyword rankings are determined by how your website ranks on the major search engines for specific keywords. It's a well-known fact that the higher your website ranks for your relevant keywords, the better. That is why it's essential to track your rankings for the right keywords.
First, you need to identify which keywords drive the most of the traffic your way. As your on-page optimization starts to pay off, your website will improve its rankings for the keywords you're actively targeting, but also for the ones you put no effort into. There are keywords you naturally rank highly for, distinct ones, such as your brand name, or highly targeted long-tail keywords specific to your service and/or location.
On the other hand, some keywords will be part of a long-term strategy to gain recognition for highly competitive terms with commercial intent.
Climbing up the SERP ladder (Search Engine Results Pages) can often be a seemingly endless and futile task, as Google often reinvents its algorithms and general SEO rules.
However, reaching the top of the organic rankings for your target keyword isn't an impossible task. It's the oldest trick in the book: try to guess the users' intent, answer their questions and provide them with satisfactory and actionable data. Your targeted keywords hide in your audience's inquires and, in the long run, you should witness growth.
You can track your keyword rankings by using tools such as SEMRush and/or SE Ranking. Keyword ranking is an important KPIs for SEO because it directly correlates with SEO success. Your keyword ranking improvements are essential to the primary KPIs: more traffic, more leads, and most importantly, more sales.
3. Leads and Conversions
Organic sessions are the most reliable measure that your website is performing well. However, getting more eyes on your site is second only to conversions. Conversions are what every SEO KPI revolves around. Getting a massive number of visitors is in vain if they do not actually convert. 
Let's say that you successfully tackled the question of attracting visitors to your website. Once they've landed, the question is – what's the next action that your users will take?
First, you'll need to experiment. Try setting up goal funnels to see where most of your audience drops off in the process. That way, you'll know where to make improvements and adjustments. By all means, you can treat them as free QA testers, but to turn them into prospective leads organically, you may need to present them "with an offer they can't refuse," such as:
Newsletter signup
Survey 
Contact form submission asking for more information
Discounts/benefits
An increase in leads means that more visitors come to your site, but it also signals an increased chance of them completing the desired action. If your website is easy to navigate, if your CTAs are strong and clear, if your content is proven trustworthy and persuasive, a higher conversion rate is guaranteed.
Remember, focusing on conversion rate optimization (CRO) goes hand in hand with user experience. This is one of the top SEO KPIs because it directly determines the core business objective of turning an audience into customers.
4. Bounce Rate
In short, the bounce rate tells you the percentage of users who left your website after loading a page without performing any action. The bounce rate is determined by dividing the number of non-interactive sessions by the aggregate number of sessions.
A usual bounce rate is anywhere between 40 to 60 percent, which means that around half of the total sessions are expected to end to no avail. Depending on your industry, this number can vary significantly.
If the percentage is too high, it shows that the page is not, or it stopped being, search worthy. This is yet another metric considered crucial by the search engines. It is a major KPIs for SEO because Google tends to prioritize the most relevant and highest quality results possible. 
On the other hand, a low bounce rate indicates that your website is trustworthy, user-friendly, current, and relevant. You can monitor your bounce rate percentage on Google Analytics to identify what is pushing your prospective customers away from your website. You can pinpoint the cause, whether it is your content quality, lousy and hard to navigate design, page loading time, etc.
5. Average Session Duration
As the name suggests, the session duration measures the average length of a single visit to your webpage. So, how do you engage your visitors and encourage them to stay longer? The more in-depth and professional your on-site content is, the longer you can expect them to linger.
By monitoring the sessions' duration, you'll be able to assess the overall quality of your site and identify where to implement changes to your site's structure.
If you witness a massive drop in session duration, something must have vexed your users. If you own a one-page website, your "Pages / Session" ratio is perfect, and you only need to monitor the sessions' duration. But if you have a content-rich website focused on conveying vast information to a niche-oriented user, you'll expect to see many more pages per session regularly.
Your average session duration and "Pages / Session" indicators are important KPIs for SEO that explicitly indicates your website's quality and how user-friendly it is.
You may be interested in these jobs
Found in: Talent IN± - 6 days ago

---

Roles And Responsibilities: · Sourcing advisors and Agency Partners. · Daily updates on the state of the company and how it relates to the competition. · Hold daily, weekly, and monthly meetings with Agency partners. · Motivate a sales team by setting goals for sales. · Assis ...

Found in: Talent IN - 3 days ago

---

We're Hiring Social Media Executive For Food & Beverage Company · Call | Whatsapp: 9773322877 | 9769106910 | [HIDDEN TEXT] · Designation: · Social Media Executive · Job Location: · Bhandup West · Gender : · Only Female · Experience: 0 - 2 yrs ( BMM Fresher's Can apply ) · Skills ...

Found in: Talent IN - 6 days ago

---

Integrated DNA Technologies

Mumbai

Responsible for growth and expansion of direct sales and profit margins within assigned accounts and/or territory/region on products or services. · Establishes professional relationships with key personnel in customer accounts. Meets assigned targets for profitable sales volume a ...