3 years ago · 4 min. reading time · ~10 ·
11 Proven Tips To Mitigate Fraud In IT Outsourcing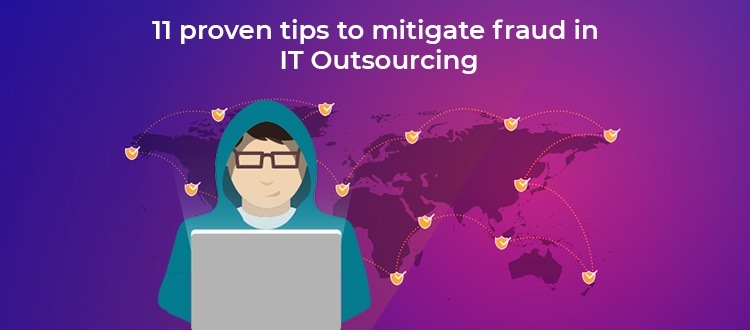 Are you an app development agency from the IT sector?
Are you trying to mitigate the risk of fraud in custom software development company?
Do you want to know about the possible risks and their solutions in outsourcing?
"Outsourcing of jobs and immigration are temporary pains that will eventually lead to global prosperity and unity."
Salil Shah
If an answer to all those questions was an emphatic YES then you have visited the right blog to learn best practices to follow when you outsource your IT projects. Let's start with understanding the need for IT outsourcing and then we tackle the critical preventive measures to avoid frauds in IT outsourcing.
Business need for IT outsourcing
IT outsourcing for business can improve customers' satisfaction and help them grow rapidly for their financial goals. It is an ever growing sector in the global market and brings a massive amount of revenue both to the software development company and the country. Sometimes, the company's survival greatly depends on outsourcing alone. Mobile app developers use IT outsourcing to manage functions like software development, infrastructure, support, and maintenance. Most businesses have IT needs at least on a small level like managing technologies. Information Technology Outsourcing (ITO) has earned a large amount of revenue in the last decade. In 2018, the sector gained a global revenue of 62 Billion USD. This explains the importance of IT outsourcing for the app development agency.
Fraud in IT outsourcing
As we have seen, IT outsourcing can earn an app development agency a large amount of savings. But it comes with a few risks and fraud that can crash the revenue drastically. There are high chances of fraud in IT outsourcing due to the vast practice around the world. More than 40,000 fraud cases have been registered in the year 2015. This led to a tiny dip in the overall global market value in the year 2016. This cannot arise automatically or suddenly within a company. Although it comes with many risks, it is possible to mitigate them. This article will focus on common frauds happening and some tips to prevent them. 
11 vital tips to mitigate the risks
Let us know about the kind of frauds that are currently happening in the IT sector along with preventive measures. 
1. Creation of fake CV, experience, and skills:
When you want to
hire dedicated app developers,
there are high chances that the candidate produces a fake CV with increased years of work experience, extra skills, and profile. Outsourcing companies will need several employees who are dedicated and this is decided with the profile only.
A good solution to stop this is by analyzing the profile. Check whether it is true or fake by conducting technical interviews. They may be present virtually too, but testing the candidate is important to gain quality work from employees. 
2. Reduction in quality due to faking of working hours:
Sometimes there can be ghost employees who do not exist in the company at all. This means they only exist as fake e-mail IDs in the company. The existing employees speed up the additional work given. Sometimes these works are not finished and this goes unnoticed by the customers.
It is very essential to include security controls. This should keep a check on every person working in the project, the number of hours worked and the salary they receive. It should be clearly defined to every employee in the team.
3. Up-sell and additional costs in the project:
In some projects, there will be no need to include the project managers or HRs. So some companies up-sell them with 10%-12% extra money. But actually, they will not be included in the project.
While a contract is signed, one should check for the incorporation of these professionals also. Only after discussing whether the managers or HRs are needed should they be accepted.
4. Overestimating of work and inclusion of unnecessary works:
In fixed price models, the customer is unaware of the number of working hours. That is in such models, the time required and cost is all signed in the contract itself. This can happen when managers provide a time and cost that is more than required. Sometimes they try giving additional features which are not needed by the customers at all.
The inclusion of internal and external audit in these cases can be very helpful. Several audit assessments are also available. With this, you can quickly conduct a test for mobile app developers and software developers. You can also organize reviews of the project's progress regularly.
5. Customer's money spent for nothing:
The customer pays the outsourcing company for extra features like expensive software and hardware tools. On the contrary, these are not used at all. The cost is just nullified along with the outsourcing costs.
So it is important to hire dedicated app developers only and you can hire IT consultants, to discuss every contract related details with them.
6. Company's data being misused:
This is one of the frauds that makes the company vulnerable to lose data and revenue. The employees can steal customer documents, credit card numbers etc. They send the client's database to fellow competitors illegally.
Ensure that the service provider gives security to your confidentiality before signing an outsourcing contract with the company.
7. Missing contract information: 
Things like confidentiality, information about the time is taken,
app development cost,
employees required and even the strategies followed for the project may be missing.
Always identify the objectives of the company before starting a contract. Make sure they are based on your business requirements only and mutually agree to the specified criteria.
8. Decreasing security:
Security of your data is essential to maintain your reputation. Some contracts do not mention anything about confidentiality.
Whenever issues relating to security are raised, follow them with legal procedures. Also, develop strict monitoring of activities and data should be protected.
9. Continued payment to employees who have left the job:
This is more like ghost employees who exist within the company. This is a big problem that arises due to lack of bookkeeping.
Reviews, negotiations should be done frequently. The contract should be renewed whenever necessary. Hiring a third party bookkeeping company can also be beneficial in this case.
10. Your project prolongs for a long time:
When you sign a contract the outsourcing company starts working towards the goal. But when there is no proper management of time and money within the company, your target date gets extended for uncertain reasons.
Estimate the cost and time within your team and then proceed to join the company. This will safeguard you from wasting your time and money.
 11. Conflicts:
It is vital to resolve conflicts between your developers and the company. Sometimes conflicts arise within your team too. Ensure that conflicts are resolved as soon as they arise; if not that is a sign of instigating more fraud cases. It is also one of the underlying causes of fraud in outsourcing.
We are aware of the possible frauds happening in the IT outsourcing sector. Now it is evident that most of the risks can be mitigated by changing a few rules.
Conclusion:
As we are drawing to the conclusion of this article, here are the three things to look before hiring an outsourcing company.
1. Previous success in outsourcing
2. Transparency
3. Quality of work
It is stated that fraud in outsourcing is preventable and all you need to do is stay updated and keep a regular check on the team you have outsourced.
"
You may be interested in these jobs
Found in: Talent IN - 6 days ago

---

About Us · We are a fun-loving, energetic and fast growing company that breathes innovation. We strive to give an unparalleled experience to our customers and win them for life. One in every 24 people on this planet is served by Airtel. · Here, we put our customers at the heart ...

Found in: Talent IN± - 1 week ago

---

Clientserver Solutions Private Limited

Hyderabad

Candidate should be good in verbal and written communication skills Client Coordination / Stakeholder management · Job type: · Full TimeExperience in US IT recruitment is Mandatory. · Local candidates are more preferable. · One-way cab facility will be provided to female employee ...

Found in: Linkedin IN Premium - 19 hours ago

---

Company Description · The Mill is a global creative partner for agencies, production companies and brands, working across multiple media channels and platforms. · We are trusted specialists in Visual Effects, Creative Production and Experience design. Our projects include the cr ...