2 years ago · 3 min. reading time · ~10 ·
7 Tips for New Android Developers Looking for Their First Job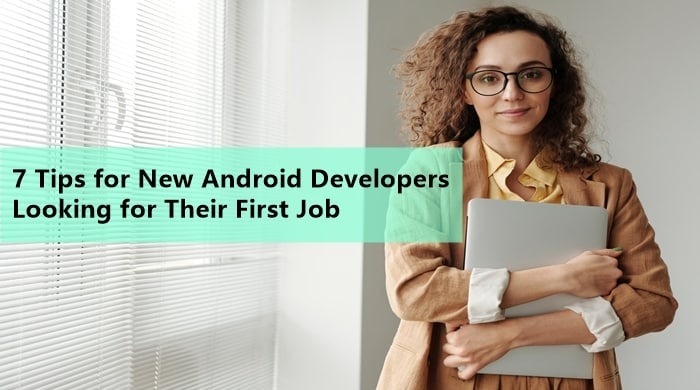 If you want to become an Android Application developer, and you are passionate about it as well you need to be hardworking and possess patience. You must know that becoming an Application developer is easy but becoming a successful developer might be a cumbersome task. You should always remember there are no shortcuts to this road. You need to be patient and work putting in the right amount of effort, you will definitely reach the desired heights.
If we see the surveys, nearly 3000 applications are released daily by Google play by developers all over the world.
We may face a lot of questions in our heads like:
What are the basic responsibilities of an application developer?

What skills do you need to acquire for becoming a successful application developer?
What challenges are being faced by an application developer?
When you are a new Android Developer and you are seeking your first job, there are certain technical and non-technical skills you need to inculcate in yourself to get hired for the perfect job.
The most important 7 tips for new android developers looking for their first job are:
1. Awareness about the collaborations with other team members
Effective communication is the key to any business. Designing any application needs teamwork. The team includes UI/UX designers, front end developers, back end developers, etc. All the members perform different tasks so good communication is the key to a healthy relationship amongst them which leads to the development of an amazing application.
So, once you are ready to find yourself a suitable job, you need to be aware of the importance of communication in business.
2. The android developer should have knowledge of performing testing and fixing the bugs
Testing is an integral part of the software development cycle. Unit testing also known as Module testing is an essential part of development. Unit testing should be conducted throughout the development process. You may find a lot of bugs in your way to develop software. It is one of your tasks to find the bugs in your code as well as fix them simultaneously.
3. Android developer should always be updated with the latest technologies
Once you become a software engineer, you need to gain the required skills and gain fresh knowledge all the time. Being updated with the latest technology helps in efficient working and competing with the rapidly developing high-tech world. And also learning should be a continuous process to become a successful professional in any field. Because without gaining knowledge, you can't succeed in any job profile. So, it's very important to enhance yourself with the latest android development trends running in the technology world.
4. Android developer should be expertise in java and should have a decent knowledge of SQL
You should have extensive knowledge of one of the development languages most expectedly java. This is the first technical skill any recruiting team would look for. It simply means you should have advanced knowledge of the syntaxes and structures. You should also understand the following concepts:
What are the variables?

What are oops fundamentals like inheritance, class, etc?
What are the lists?
What are the loops?
Only having knowledge of java or any developing language won't be enough. You need to know that integration with databases is also necessary. This is one of the reasons you should be aware of SQL as well. This is one of the skills you can inculcate in yourself to increase your chances to get hired.
5. Android developers should have XML Basics knowledge
XML stands for Extensible Mark-up Language; it is important for the development of web solutions. XML basically helps to access web data that is why it is an essential skill that is required by an android application developer.
6. Awareness of backend programming skills
When you are searching for a job, you might see that the company mentions backend skills as an added advantage. It might be tough to learn an extra language in the initial path of your career as you are just starting your career and you lack experience. But it won't be wrong to say that once you learn even the basics of one of the backend languages, the chances of getting hired becomes high. In the end, it is your decision whether you want to go for such a profile where this is required or you want to stick on to the front-end work only.
7. Android developer must be passionate about his/her work and must possess business knowledge
If you want to get hired for an android developer profile, you need to be passionate about it. The motivation for work is very essential. You might feel the coding work is monotonous but you need to find the passion for whatever you do. Passion would make you different from others and increases your chances to get hired by the best in the industry and that is definitely a dream of any developer. You can climb the ladder to success by being hired in a good company when you start working.
The last but not the least is having a good business knowledge of the industry you are working for. Having a decent knowledge and understanding of the industry you are working for can distinguish you from others and definitely makes you an eligible candidate for the desired company. You need to be competitive enough to provide the company with your skills and help them earn higher profits.
Wrapping Up
If you are a beginner, you just need to keep certain things in mind and it totally depends on you, how much are you willing to learn. Technical work demands lifelong commitment and you need to accept your strong skills as well as the flaws which come your way. So, these are the few important tips for freshers looking for their first job in android app development. I hope these few tips would help in getting you hired as an Android Developer. Thanks for reading!
Suggested Readings:
You may be interested in these jobs
Found in: Talent IN - 2 days ago

---

Balbix

Gurugram

Full-Time

ABOUT THIS ROLE · As a Product Manager at Balbix you will advance our product capabilities to deliver clear business outcomes. You will help advance our customers' effectiveness as they defend their organizations in cyberspace, increasing the value of the special role that Balbi ...

Found in: Talent IN - 1 day ago

---

Job Responsibilities · : 1. Acquire and on-board customer in assigned territory · 2. Responsible for customer document & Order Collection · 3. Obtain building permissions · 4. Drive Customer Engagement and Experience · Education Requirement : 10+2/Diploma(Full time) · Experienc ...

Found in: Talent IN+ - 6 days ago

---

HTC Global Services

Bangalore Metropolitan Area

Interested candidates please do share your updated CV with along with below mentioned details:Location : Chennai /Bangalore/HyderabadRel. Exp. · as SAP GRC : · Rel. Exp. · in End to End Implementations: · Rel · Exp in Support Projects: · CTC: · E · CTC: · Notice period:Current L ...