2 years ago · 4 min. reading time · ~100 ·
Advantages of PHP Web Development That You Must Know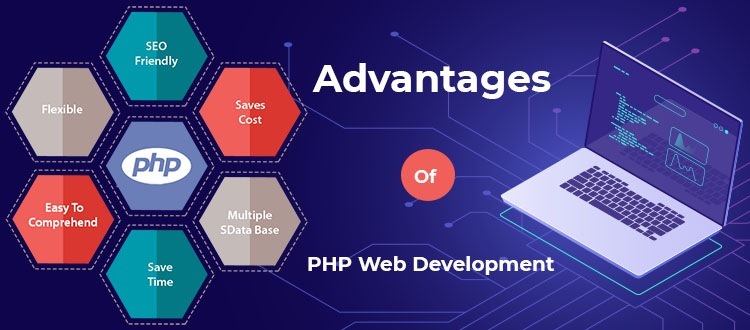 development is probably one of the most important things that are going around in the world these days. With new and amazing websites being launched every day, it is important for people to understand more about it.
When it comes to PHP web development, PHP has an integral role to play for sure. It is a general programming language that is used for server-side scripting in the best way. The development of websites becomes a bit easier with this amazing PHP programming language and that is one of the main reasons why people all over the world are using PHP.
With the help of the PHP framework, users will be able to reuse the same code and they don't have to write their very own complex coding for the different web development applications as well.
Not to mention that these PHP frameworks are open-source and will be easily used as well. The programming language came to existence when it was developed in the year 1994 by Rasmus Lerdorf.
Some of the Important Advantages of PHP Web Application Development
Here we are mentioning some of the important advantages that one might get from the PHP programming language in the best way. We hope that this is able to clear out any doubts or questions that you have regarding the benefits of PHP Programming languages.
One of the most important benefits of having PHP web development is that it is completely open-source and that too free of cost as well. So, as a PHP developer, you will easily be able to install it without any difficulty and then use it as well.
Decked with some of the most proficient frameworks, PHP programming language is something that everyone would love to use. All you have to do is choose the frameworks that you would want to work on and then you will be greeted with the sight of innumerable features and tools which would definitely make your job a lot easier than expected.
This open-source platform is something that makes all the systems ready in no time so that you can have quicker and more efficient PHP web development.
Here are another one of the benefits of using the amazing PHP framework for web development. One of the things that you should probably know about PHP is that this is a framework that all the operating systems can support such as Windows, Linux, Unix, and so much more.
Not to mention that it is going to be a cakewalk to run the web applications created by an amazing PHP framework on any particular platform of your choice. There is also a feature where you will be able to integrate the entire programming language with some other database in order to have some benefits of development in no time. All of these benefits help in saving a lot of your effort and time.
This is probably one of the most important benefits of PHP web application development. You don't have to be an expert in coding and programming if you want to use the PHP Programming language because it is very simple and easy to use for sure.
You can learn to code in no time because the entire system is pretty much cleaner and organized for the users. So, the new PHP developers who are not very much experienced in the field of programming will be able to use it without any difficulty at all.
There are some simple command functions for the PHP language that you need to know about in order to understand PHP and work on it in the best way.
Also, for people who know the other programming languages and not PHP, this is a language that will be easier to work with. So, the simplicity of learning and ease of use can be considered as a pretty great advantage of this particular programming language for PHP web application development.
The programming language of PHP is always easily connected to some database and this is a connection that can be considered as pretty secure and safe for sure. There is a built-in module provided with PHP which makes the connection to databases very simple and easy.
We know that the world of the web consists of some complex and different web applications which definitely call for some of the strongest and amazing programming languages where there is proper database management in the best way.
Hence, this is pretty good news for the people because the PHP and the database that it has is probably going to solve any of the problems that people might face. Not to mention that it also reduces the time that is required to connect with the database management systems in the best way.
This all proves that most of the databases will be able to connect with PHP in the best way without any difficulty at all. Doesn't that seem like an amazing thing, people?
Fastest Programming Language
When we are talking about PHP, we might as well mention that it is one of the fastest programming languages. When compared to some of the others, the speed is very fast and there is simply not a single speck of doubt about the fact that PHP applications are the ones that are easily loadable.
The PHP web applications are easy to lead even when the data is pretty low and the database connectivity is not good. While the other applications tend to take a lot of time in order to connect properly with the database in the best way, there is simply not a single speck of doubt that the PHP frameworks are not going to take much time at all in order to have some results.
The PHP web development is mainly in use in order to ensure that the maintenance and development of the web application are done efficiently in the best way. With the help of the controller model view architecture that PHP has, there can be no uncertainty that the PHP framework would definitely make the process of coding and maintenance really easy for sure.
With the help of well-planned architecture in PHP, the separation of a particular file becomes increasingly easier with each time. That is probably one of the main reasons why PHP is considered to be a great programming language to use and people all over the world are currently using it in the best way for sure.
One of the main advantages of using the PHP programming language is that it is certainly has a proper community for the support that it gets online. So, there is no doubt that the developers who are currently new will get all the help when it comes to writing the code in the best way. Also, it is pretty easy to develop web applications in the best way as well. The documentation which is offered on the official site helps in the best way.
Conclusion
So, there you have it, people. These are some of the most common advantages that one needs to know about. Make sure that you choose the right framework for yourself and enjoy the advantages of coding when you are trying to understand PHP web application development.
You may be interested in these jobs
Found in: Recruit.net IN Premium - 7 hours ago

---

Vialto Partners

Hyderabad

Job DescriptionInternship Program where engineering, computer science resources are trained as a part of Build, Brand and Bond Program. · Training would be for 3 months to 6 months where resources would be training on various technology, product management, engineering/Infra/cybe ...

Found in: Talent IN - 5 days ago

---

Iron Mountain

Bengaluru

Full time

At Iron Mountain we protect what our customers value most, from the everyday to the extraordinary. We build customer value around the world with a passion for preserving the physical, transforming the digital, and respecting the environmental. We pioneered the industry for global ...

Found in: Talent IN± - 1 day ago

---

Should be able to work independently and handle an area with 4-5 designers/engineers. Prepare piping layouts and conceptual design in 2D and 3D Reviews drawings, and vendor equipment documentation, both within the discipline as well as from other fields, for compliance with proje ...