5 years ago · 2 min. reading time · ~10 ·
FEELS GOOD TO BE(e) on beBee - by Devesh Bhatt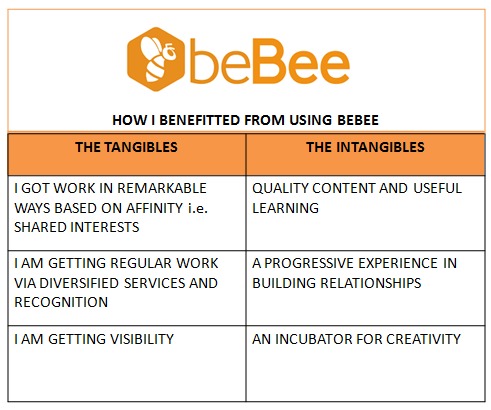 Last year I was introduced to https://www.bebee.com by Jim Murray. What I still remember from his message was this " Bebee has been pretty amazing experience for me so far. And a number of people I was close to on Linkedin, who have also moved to Bebee, echo my sentiments."
I thought, he is a writer, good for him. I am not a writer, my article writing, as it is now, is generally incoherent and confusing and my love for poetry is a distraction. I have to focus on professional networking on Linkedin and try for a breakthrough.
I did get breakthroughs, but social media still looked alien and there were many unnecessary frustrations.
A few months back, I registered on Bebee. Now I echo the same sentiment, Bebee is amazing.
I could go about explaining Bebee, affinity based networking, personal branding and the many such catch phrases that have become synonymous with Bebee. But I won't.
It is best to experience it.
Instead I would straight away talk about benefits.
THE TANGIBLES:
1. I GOT WORK IN REMARKABLE WAYS BASED ON AFFINITY i.e. SHARED INTERESTS:
a. Strategy, Project Planning, and quantitative analysis work through Poetry and abstract articles.
b. Branding, content and marketing work through qualitative and quantitative analysis.
2. I AM GETTING REGULAR WORK VIA DIVERSIFIED SERVICES AND RECOGNITION:
a. I have diversified into Branding, Marketing and content writing. More services to offer, means more leads and more work. I improved myself to a useful level in these domains just by reading quality content and socializing on Bebee.
b. It feels good to be recognized for something I already enjoy, promoting Bebee. I am a Bebee Brand Ambassador now; the title has certainly helped me in securing Branding and Training Work here in India.
3. I AM GETTING VISIBILITY:
a. Any content on my blog that is well received by the audience gets promoted by Bebee across their various twitter handles. I am twitter active now.
b. Additionally Bebee Brand Ambassadors are very pro-active in promoting my content across social media. Again, I have generated substantial leads, based on affinity.
c. Furthermore, there is a progressive collective effort by Bebee users to promote each other, including me.
THE INTANGIBLES:
1. QUALITY CONTENT AND USEFUL LEARNING:
a. Bebee is full of great writers and the audience on Bebee is brimming with fresh perspectives. Suddenly I am aware, inquisitive and keenly interested in a lot of professionally relevant things, especially the details of online marketing, branding, emotional intelligence and content development.
b. I have learnt something about personal branding; it is time to be brave. I present my competence and sincerity simultaneously. I do not submit to the watered down approach of saying "I can do the job" followed by "I am a good person". If you have negotiated with new clients, you would know what I am talking about.
2. A PROGRESSIVE EXPERIENCE IN BUILDING RELATIONSHIPS:
a. Everybody doesn't have work for me all the time. It is best to stay connected and share something meaningful. Shared interests are meaningful and I am beginning to see the positive outcomes. In case of Bebee, there exists a strong reciprocity between the management and the users. There is a proactive effort to build and sustain relationships.
b. Such relationships do not wait for a work requirement or a formal introduction. They simply emerge and grow into tremendous opportunities. Even if they don't, I have made great friends and their good professional habits rub off on me.
3. AN INCUBATOR FOR CREATIVITY:
a. I have many in-between ideas that can become creative and innovative solutions. I believe that every thorough professional has such ideas. Some ideas are really close to the heart. For the others, I shared them on Bebee and the inputs have helped me shape them into something useful. Soon enough, I will shape them into something workable. (I must thank Gerald Hecht for this phrase).
b. I write, I interact and I figure out some amazing things. My writing has certainly improved in terms of coherence and it helps in thinking. That's Bebee for me.
Given the above benefits, I am certain that things will only get better, especially with the upcoming App. Bebee has hinted at some pretty interesting features. Till then, it is best to keep writing and networking.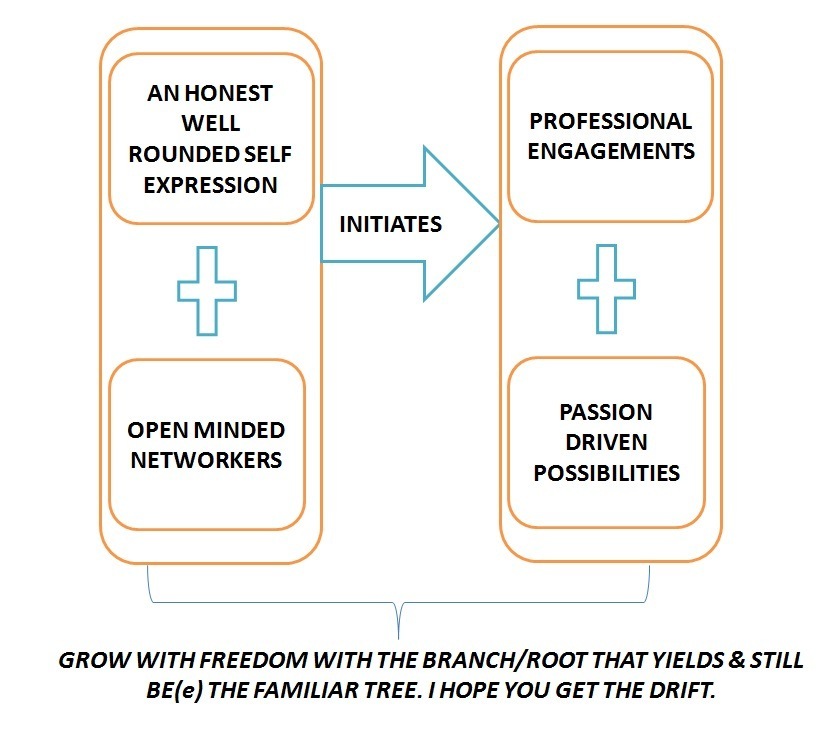 ""
You may be interested in these jobs
Found in: Talent IN - 2 days ago

---

Overview Working as an integral part of the Technical Analyst team you will provide analysis of business requirements to produce Functional Specifications for required system changes. Assist the business with clarifying requirements and identifying alternative solutions. Support ...

Found in: Talent IN Sponsored - 5 days ago

---

The Team: We're looking for an experienced recruiter who will join the India People Movement team to source and hire top talent across the Market Intelligence Division. The Market Intelligence recruitment team is a dynamic one that strives on individual and team development. You ...

Found in: Talent IN - 3 days ago

---

Cigna Healthcare Company

Bangalore

Job Description · Job brief · We are looking for a Customer-oriented service representative to act as a liaison, provide product/services information and resolve any emerging problems that our clients might face with accuracy and efficiency. · The target is to ensure excellent se ...