3 years ago · 4 min. reading time · ~100 ·
Guidelines to Develop a Mobile App for Fantasy Sports Business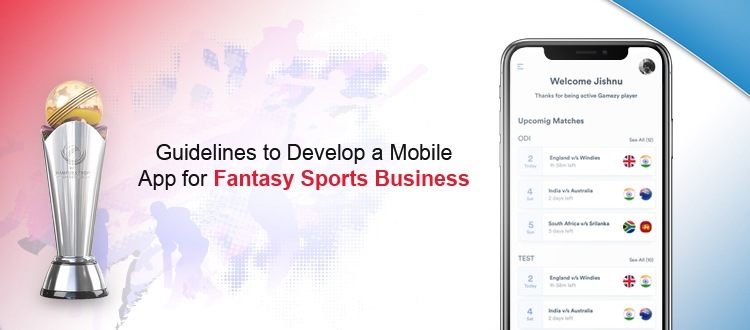 Are you into the fantasy sports business? Are you starting a fantasy app development?
Do you love to have some tips as a fantasy sports app developer?
On average, a user spends 42 minutes a day on a fantasy sports app worldwide. In the 21st century, fantasy sports is coming out to be the most lucrative industries which have been steady in its growth. If you want to start your fantasy sports business then, NOW is the right time to do it. With this article, will tell you the things to remember while starting a fantasy sports business.
Growing popularity for fantasy sports
Fantasy sports apps are trending these days. Statistics of Fantasy Sports Trade Association shows over 9,000,000 entered this market from 2013 to 2015 alone. Now, this number has increased in a massive way. People are generally attracted to new ideas and adventurous things. Fantasy Sports platform development is that only. It is new and exciting. Also, a large population loves watching sports like cricket, football. Hence, let us explore this world of fantasy apps that will help you develop your own app.
Important checklist for sport app developers
A checklist is an important aspect of the development process, especially when it is new. This will guide the entire fantasy sports platform development right from the beginning.
Fantasy sports app development involves a lot of partners. Thus, having a clear objective is required. This will depend upon your business model. You may be an app developer or a sports brand or sports media brand. Everyone has a definite reason to start this app.
To gain the attention of the people in your location, do research about the demographics. Specific features like different language options are essential.
List of sports and leagues
List of leagues also will depend upon demographics. If you wish to start a fantasy cricket app, then ensure to research about the different leagues. Make sure you include all of them in your app.
Your fantasy sports app should define itself from others. Develop one unique and pivoting feature. This is the attracting factor for your users. This is also important for gaining good revenue.
Fantasy sports includes a lot of incoming data. So a trusted data provider is vital. It is recommended to select providers who have worked with the industry before. The cost and services should be chosen carefully too. Make sure they give you the right support and services according to the cost.
A pre-launch is what is necessary here. Most fantasy sports development companies have both apps and website. This will add on to the hype before the launch. You can use your website or some unique strategy to attract attention. Marketing teams and development partners can help you with this.
Development partners are crucial for your company. They make sure to look after the launch and marketing. So make sure you select trusted development partners. Also, ensure that they have a potential fantasy sports app portfolio in the past.
Features for best fantasy sport app
Recently, a few fantasy sports apps totally steeped the industry. As we all know, Dream11 created sensational inception. Since then, many fantasy sport app developers created the Dream11 clone script. To develop an app like that we need to understand its features. This will help you develop more new ideas/features to your fantasy sports app development. Here are some of the exciting features of Dream11. You can also use a Dream11 clone script and then develop them according to your need.
Read More: How to Design and Develop a Fantasy Sport App like Dream11 ?
Hemendra Singh
Application for register and login
Here the user is able to join the app using their personal details. This includes their name, password, email ID and a referral code if applicable.
After the user register and log in, they are navigated to this screen. There are different options here like sports type, match category, match listings and match time. So the user can select the sport and then select categories like upcoming, ongoing or live. Then they move on to select their team.
The team gets selected and then the contest is decided. Here the user can select the desired contest. First, they can filter the contest according to the entry fee, contest type, size etc. Then the details of the selected contest are displayed.
Below this, there is a join contest option. The user is allowed to join after giving an entry fee.
The user can create their own contest too. They need to enter all the details in the required fields. Then they must join this contest first to start a contest. Later they can invite friends to take part in it.
This platform allows the contestant to view the other players who have joined. Also, the selected teams can be edited again here.
The profile or dashboard is a personal space for users. The user details, prize money won and every single detail is given here. Ranking among friends, referral information is provided too.
This will include Invite and Earn feature. Also, About Dream11, Help Section, Point System and Contact Us is provided.
These are the features of any Dream11 clone script.
Some more add-on ideas are given here. These are the features that can instantly attract customers. This will also give your app amazing management options.
Live match scores are very much liked by viewers. These scores are given for plenty of games and sports.
CRM is surely needed for every app. For a fantasy sport app, this is unavoidable. This helps push notification, emails, location etc. all in one.
The API used should include easy to use features and ready-made data availability for fantasy sport app developers.
This becomes an important feature for users to join a match or create a contest. With push notification, they will always stay updated.
Real-time analytics is necessary to provide live scores of all matches. So data is stored and also updated for your users in real time.
GPS location and tracking
GPS tracking sends push notifications to users about leagues or matches near their location.
Different payment options
Payments can be done by users using various methods. There are debit, credit and e-wallet options.
This is very similar to push notifications. The details about the upcoming matches, contests are sent to user's mail.
Conclusion
In the end, let us discuss some challenges and how to face them in fantasy sports platform development.
These fantasy sports are very different from other video games. This needs a lot of learning about the gaming strategy. So the fantasy sport app developers should assimilate these strategies in a professional way.
A lot of data tends to pour into your app after its launch. There are a number of categories like prizes won, matches played by each player. All of them needs expert integration and filtration to sustain in the long run.
You may be interested in these jobs
Found in: Talent IN - 3 days ago

---

The Walt Disney Company

Mumbai

Job ID 10022262 Location Mumbai, India Business Industrial Light & Magic Date posted Oct. 10, 2022 Flex Type Hybrid This role is considered hybrid, which means the employee will work a portion of their time on-site from a Company designated location and the remainder of their ...

Found in: Recruit.net IN Premium - 4 days ago

---

Our Purpose · We work to connect and power an inclusive, digital economy that benefits everyone, everywhere by making transactions safe, simple, smart and accessible. Using secure data and networks, partnerships and passion, our innovations and solutions help individuals, financi ...

Found in: Talent IN - 2 days ago

---

JPMorgan Chase & Co.

Bengaluru

Full time

Primary responsibilities: · Design and develop complex, high quality, enterprise-transforming business applications. · Prepare software for deployment to production environments and assist in releases. · Guide junior developers on best development practices, perform code reviews ...