2 years ago · 2 min. reading time · +500 ·
How to Disable Power Button on Android Devices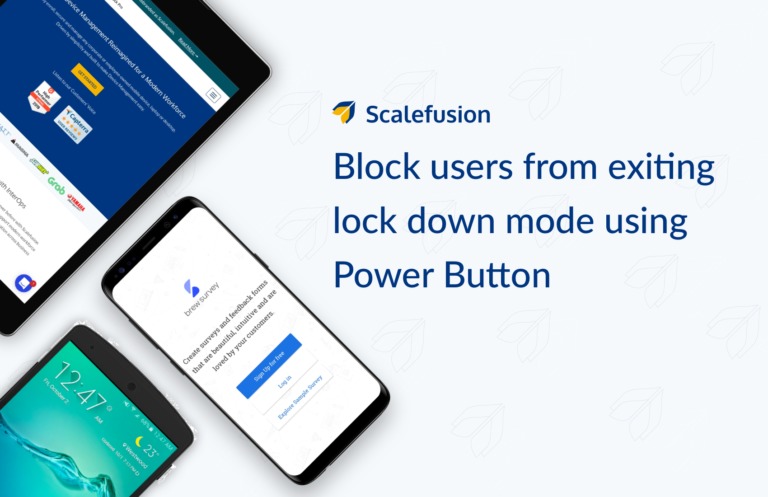 Locking Android devices
for business use is one of the key contributors to device efficiency as well as to employee productivity. The company-owned Android devices used by employees for work can be configured with stringent security policies, allowing access only to business-specific apps, and the devices deployed as kiosks can also be locked down in single-app mode.  
While the security policies make it imperative for the end-users to use the devices in a controlled environment, there's always a possibility of end-users breaking the lockdown by using a combination of hardware keys and buttons. This will result in the end-users interfering with the settings of the device, taking screenshots of the device screen, rebooting the device or even exiting the device management.
To secure the locked devices and digital signages from misuse, it is important to enforce policies that will make it impossible for the end-user to exit the management on the device. 
Locked-down devices are susceptible to misuse with hardware keys
Certain combinations of hardware buttons can aid in removing any kind of restrictions applied by the mobile device management software provider.
End users can misuse the power button or access it accidentally to reboot or reconfigure the devices as they want. For Android devices configured as digital signage or unattended kiosks,  if a user accidentally presses the power button, the device display will be turned off, directly disturbing the operation and use-case of the device. Such practices can jeopardize the device and data security. 
Disable power button with Scalefusion MDM
With Scalefusion, disabling power button on Android tablets and phones is easy. IT can mitigate potential threats to device security by disabling the power button on Android phones managed with Scalefusion.
A step-by-step guide to disable power button on Android devices using Scalefusion
1. Sign up
and enroll Android devices on
Scalefusion
.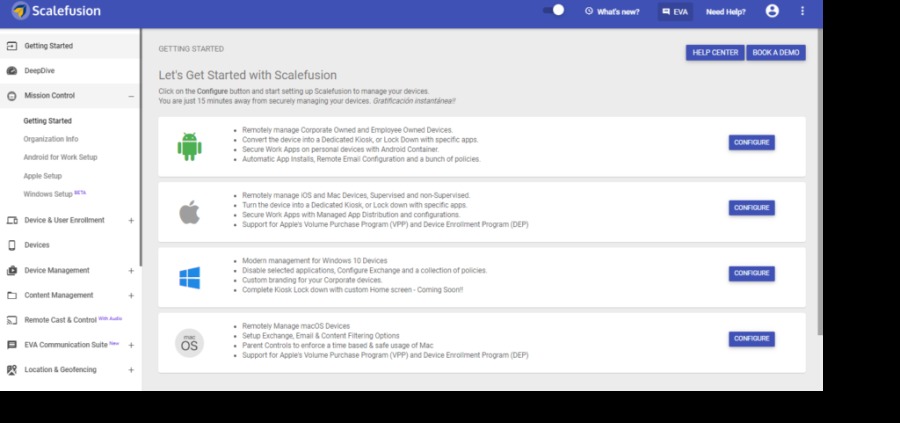 2. Navigate to the Device Management section on the Scalefusion dashboard. Create a new profile or edit an existing one.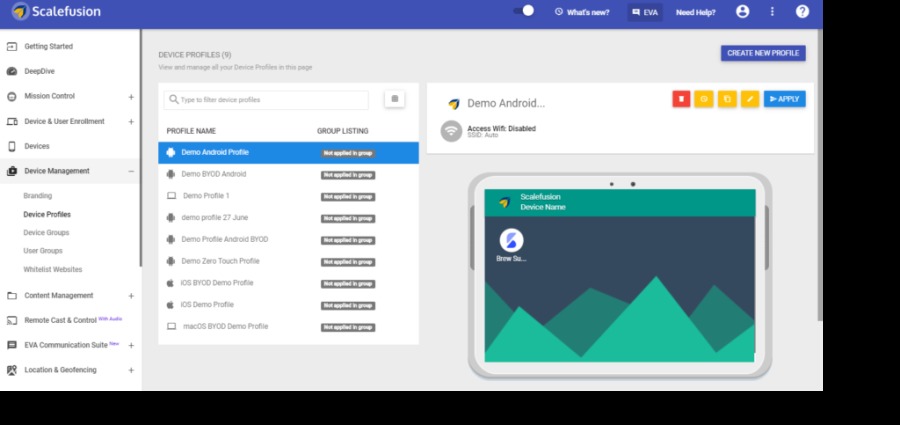 3. Navigate to the Restrictions section. And select the General Settings option.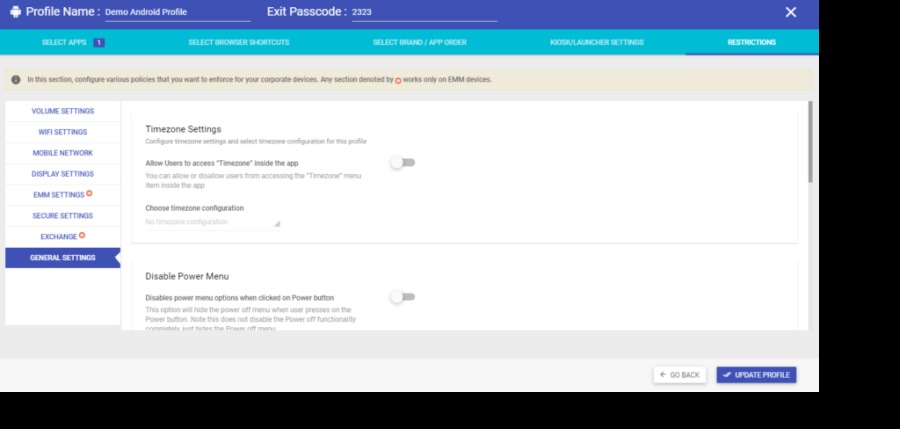 4. To disable the power button on Android devices, toggle the button available under the Disable Power Menu section.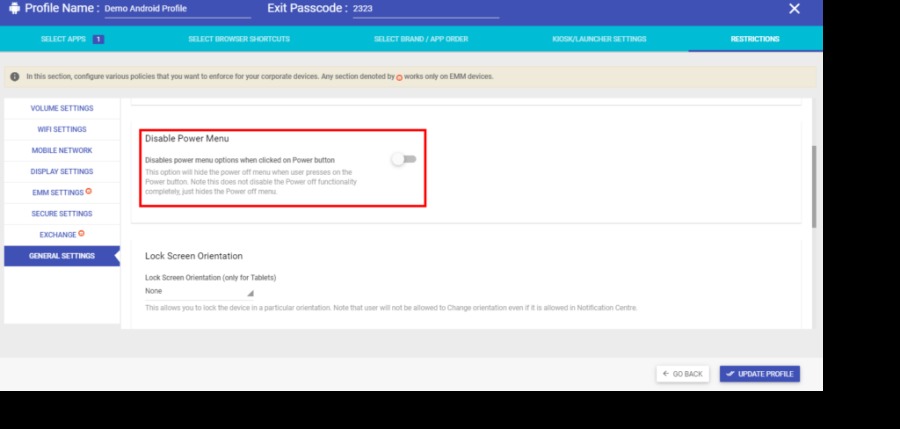 Disabling the Power Menu will hide the power-off menu when a user presses the power button on Android devices. The power-off functionality will not be disabled completely, but the user will not get a message on the display to power off the device. 


Click to Know: Step by Step Guide to Disable power button on Samsung KNOX, LG Gate or Sony Enterprise SDK

You may be interested in these jobs
Found in: Talent IN± - 1 day ago

---

For a Client of Teamlease Digital

Mumbai

Answering customer inquiries and listen to their problems/asksTroubleshooting customer reported problems – Remote support and On-site support. · Identifying root causes for the problems and taking corrective and preventive steps. · Installation of OS and software. · Providing tra ...

Found in: Recruit.net IN Premium - 3 days ago

---

Position Summary: · As a Test Engineer II you will develop and execute exploratory, manual testing to ensure product quality. You will be involved in all aspects of software testing using appropriate testing methods to validate the quality of the requirements and development of B ...

Found in: Talent IN - 1 day ago

---

Danaher

Bengaluru

Full time

: Specific responsibilities commensurate with experience and include: · Works closely with our Software Applications and Research associates, and other functions to design and develop Mass spectrometer software products and capabilities with focus on instrument control and drive ...