1 month ago · 5 min. reading time · ~10 ·
How to Outsource Mobile App Development In 2022
Once you've decided to develop a mobile application for your company, you'll have to make a difficult decision. Is it advisable to recruit your own in-house development team or discover a mobile app development business that outsources? We'll get into the intricacies of the latter choice in this piece. You may outsource mobile app development if you want to create an app for your firm, get online, or enhance your day-to-day business operations.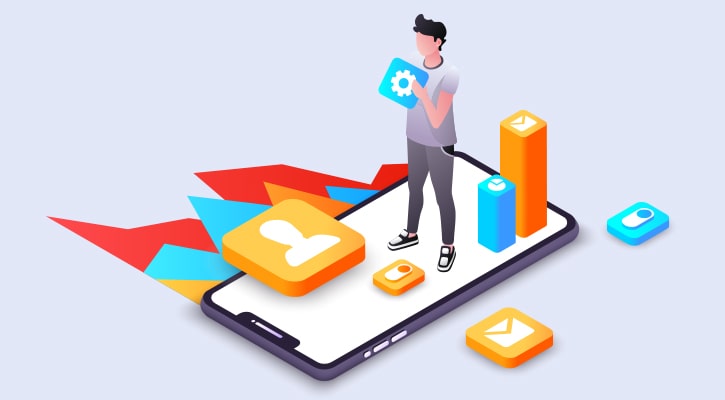 While outsourcing software development is the optimal solution, it is not without its own set of concerns and obstacles. Finding the correct app development partner might be the most difficult challenge at times. And, the best method to choose an excellent mobile app development outsourcing partner is to search for a business that makes a genuine effort to understand your idea before providing a quotation and timeframe and getting started with development. So, do you want to go ahead and reap the benefits of mobile apps for your business? We're assuming yes. 
This has raised an essential question for company owners:
Should you hire an in-house app development team and rent an office space to construct a mobile app for your company? There's no need for it when you can outsource.
Why should you outsource application development?
Since excellent coders live in many different places and they may or may not accept to join your group. This is why, rather than wasting money on employing these professionals, outsourcing your business app project to them makes far more sense.
The following tutorial will bring you through the proper approach for both iOS and Android app development outsourcing.
1. Create a Plan for Your App
You must have a clear vision for your app concept. Yes, a reputable app development outsourcing firm will assist you in comprehending the fundamentals of an app. However, you must conduct your research to the best of your ability. Although you may not know the operational elements, you may investigate rivals and comparable apps, which will assist you to understand your app's functioning and make you aware of what your competitors lack. 
2. Create a Budget Estimate
With adequate study, you will determine how much money you can devote to your app. This budget estimate will help you decide whether to employ a freelance developer or an app development business. Companies that provide outsourcing services are not pricey. When you look at the big picture, they're cost-effective.
3. Explore App Developers
It's time to start looking for developers when you've decided on the app's outline and budget. Experienced developers will advise you on your next steps. App developers may be found on a lot of platforms. These websites exclusively feature reliable developers and include authentic reviews and ratings from the developers' clientele. You may also go through the highlighted portfolios of app development businesses and developers to discover what type of work they have done previously. It is a plus if the developer has previously worked on a comparable project. This suggests he's worked on something similar before.
4. Meet with the Developers
After investigating the developers, you may create a shortlist of those you believe are suitable for your project. Then you may interview them one by one. You may get in touch with them and inquire about their relevant experience, app development method, prior projects, client testimonials, and prices. This will offer you a better notion of whether or not you want to work with them. You may also talk about time zone variations, project management tools, communication tools, and other issues that are relevant to outsourced app development.
5. Contact the Final Developers
After speaking with all of the developers on your list, you must choose one to work on your project. Make a list of all the information you gathered online and via one-on-one discussions with the engineers. This will allow you to compare and make an educated decision. When you've decided on a developer, just approach them. The mobile app development business will also advise you on how to continue. Let's look at why you should use freelance mobile developers instead of full-time in-house engineers.
Advantages of Outsourcing Mobile App Development
It accelerates your app development process 
Do you know why certain firms succeed in a short period? It's because they're quick to hire new personnel, whereas business organizations take their time adapting to market developments and dragging out the typical paper procedure. However, if you have the time and money, you can compete with or even surpass those companies if you engage the right outsourced app development business.
Aids in the expansion of technological stacks 
These days, technology is always changing. For iOS app development, everyone now favors Swift, and for Android app development, everyone prefers the Firebase infrastructure.
It is no longer vital for the employees you recruit to be conversant with today's technological stacks. However, outsourcing your app project to an app development firm with experience integrating a new stack might provide you with extra benefits like a robust codebase that does not require long-term maintenance.
Outsourcing increases creativity and efficiency.
The best-outsourced app development businesses are known for their creativity and efficiency in their work. For designing mobile apps, the majority of them always use the IDEA cycle. IDEA (identifies, design, engineer, and analyse) is a basic paradigm that helps to speed the app development process.
In-house developers, on the other hand, don't necessarily take the same approach because they've been working on the same product for a long time, and they may overlook minor features that users would demand.
Outsourcing a project is more cost-effective than hiring an in-house app development team.
App developers in high-cost-of-living cities such as New York, San Francisco, and London cannot afford to charge less for their labor. However, this does not imply that they will produce work of the same quality.
In reality, they charge twice as much as the top outsourcing businesses, owing to a lack of resources. We created these tables stainable to make things clearer and to offer an understanding of the benefits and drawbacks of an in-house team vs. an outsourced workforce.
Characteristics of a Good Mobile App Outsourcing Company
The firm is responsive and responds quickly.
Their ethical standards are evident — for example, they acknowledge working on a similar project but refuse to name the customer owing to an NDA agreement.
The conversation's general tone is amicable but professional.
They ask questions regarding your project proactively.
Their project manager has excellent communication abilities, which helps both parties.
They discuss contemporary technology stacks while being willing to explain the differences between the stacks.
They may provide you with specifics on how they intend to carry out your job (and sound like know what they are up to)
Mistakes to Avoid When Outsourcing Mobile App Development
Failure to account for time zones
You should constantly be aware of the time difference to put your job on hold. For productive project development, it is often advisable to have 4-6 overlapping hours with your outsourcing partner. Also, make good use of this time by putting vital chores at the top of the schedule.
Not signing an NDA before starting development
You can persuade the developers to sign a non-disclosure agreement before your project. This legally binds them to not release any information to a third party without your permission.
A reputable mobile app development business, on the other hand, will keep your data safe even without an NDA. A non-disclosure agreement (NDA) is required for novel ideas and enterprises.
Failure to develop a mutually beneficial milestone plan
Do you know when developers are most productive? When they are not bothered by anyone! Over-reporting and over-communication may be as damaging to your software project as a lack of it. This is why, alongside your outsourcing partner, you must explicitly specify your "reporting" timetable.
Ignoring the testing aspect
Testing should ideally be done by the outsourcing partner you engage. However, if the firm included this service in the initial contract, follow-up before the project is done to avoid future confusion.
Furthermore, by employing expert testing, you may uncover flaws before your potential users do, and it helps to ensure that your app is functioning.
Inability to obtain technical assistance
When you outsource mobile app development, you must receive technical assistance long after your app development project has been completed. You must ensure that the firm you pick has comprehensive technical assistance. This is especially crucial if you are well familiar with the technology and want assistance in understanding the application.
Wrapping Up
If you're diligent in your search, you may locate a top mobile app development business to work. However, don't hire offshore app developers simply because you want to finish your app as fast as feasible. Take the time necessary to examine the best prospects until you discover the perfect fit to accomplish your job to your satisfaction.
You should contact the best in town app Development Company if you have any further questions about the application development outsourcing, pricing models, other application development, or outsourcing solutions such as on-site developers or specialized mobile app developers.
You may be interested in these jobs
Found in: Linkedin IN Premium - 4 days ago

---

Currently we are looking for a remote Senior Java Developer for a software company for our team. · The customer is a recognized leader in cloud computing security and compliance, providing a server security and compliance platform that works seamlessly across data centers and ela ...

Found in: Adzuna IN Premium - 5 days ago

---

About us: · As a Fortune 50 company with more than 350,000 team members worldwide, Target is an iconic brand and one of America's leading retailers.​ · Target as a tech company? Absolutely. We're the behind-the-scenes powerhouse that fuels Target's passion and commitment to cutti ...

Found in: Talent IN - 5 days ago

---

Jira Admin: · 2+ years of experience in administrating Jira, Confluence & Jira Service Management · Proficient in generating JQL search results · Experience working with script runner, Jira automation and knowledge of Git · Experience working with Jira Software, Jira service mana ...