3 years ago · 2 min. reading time · ~100 ·
Monolithic vs Microservice Architecture- Pros and Cons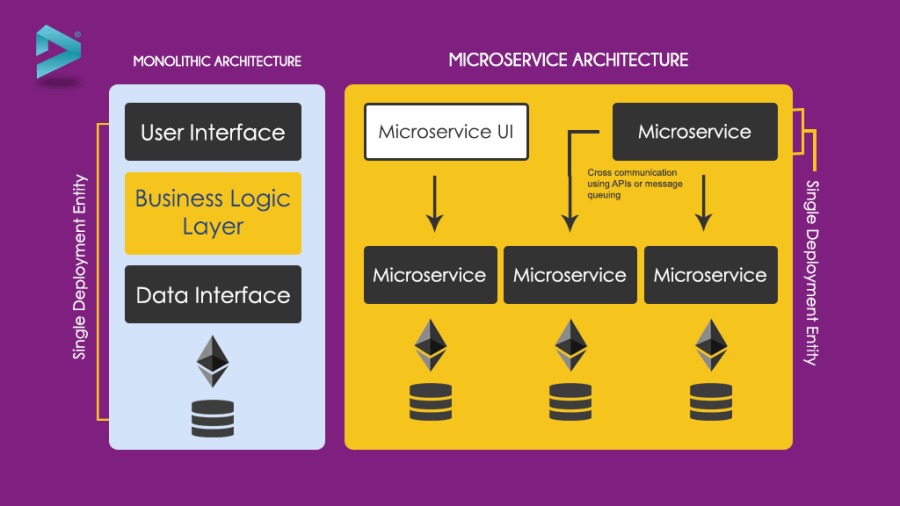 The hassle that large scale enterprise applications under development bring to the table of software developers was too much. There was no solution at all to this problem that's why a different architectural style was required. Hence the term "microservices" came into existence after the sustainable development in cloud computing space, it was first used by Dr Peter Rogers in a conference on cloud computing in 2005.
"Microservices" was premiered at an event for software architects in 2011, where the term was used to describe a style of architecture that many attendees were experimenting with at the time.
The Monolithic architecture is the conventional style that we have been using normally whereas the Microservices architecture is used only in extremely large-scale applications which cannot withstand downtime.
What is Monolithic Architecture?
Web Applications usually consists of three parts
Front End client-side application is written in JavaScript and other languages.

Back End Server-side application which contains business logic written in java, PHP, Python or some other language.

Database of whole web application
All of these parts are closely coupled and frequently communicate with each other. Hence the whole web application works as a monolith where every part is dependent on others.
Checkout: How Web App Development Process is Becoming More Efficient?
Advantages of Monolithic Architecture
The code structure of monolithic architecture is small as compared to microservices architecture. Hence the Monolithic architecture-based web applications are easy to develop, easy to test, easy to deploy and easy to scale.
Disadvantages of Monolithic Architecture
The complexity in Monolithic Architecture increases too much with bigger size which makes this approach limited to a certain size of projects.

The increase in the size of the web application increases startup time.

Bigger web applications become more complex and consequences in reduced code readability, difficulty in development and debugging.

Changes are one section of the code can cause an unanticipated impact on the rest of the code.

Extensive testing and debugging are required on integrating new code.

Continuous Integration and continuous deployment become difficult.

In case a part of web application shuts down then rest of the web application will go down as well.
When to use Monolithic architecture?
Monolithic architecture can be used in projects which do not require real-time response and they can withstand downtime. These kinds of projects are limited to a certain size if the web application's size is expected to go beyond that then Microservice Architecture should be adopted. Most of the web applications that we normally use are based on monolithic architecture.
Checkout: What is an API and How it works?
You may be interested in these jobs
Found in: Linkedin IN Premium - 5 days ago

---

Ceridian is a global leader in Human Capital Management technology. Simply put, we allow our customers to do the most complex things well (HR, Payroll, Benefits Administration, Workforce Management and Talent Management) and do them to scale. · Makes Work Life BetterTM is our bra ...

Found in: Talent IN - 1 day ago

---

Pearson

Bangalore

Full time

Sr. QA Engineer - EDW · Location: Bangalore, India · Position Summary · The Quality Assurance (QA) engineer is part of the Enterprise Data Warehouse (EDW) team, developing and executing manual and automated tests to ensure the quality of data pipelines, products, and services. ...

Found in: Talent IN - 6 days ago

---

The role entails working towards achievement of CASA build up, in line with branch targets through efficient and cost-effective customer engagement. The role bearer would lead customer service and operations at the designated branch and ensure regulatory requirements. · Roles & R ...