1 year ago · 3 min. reading time · 0 ·
Resume
Anupam  Tyagi    
                       
Corresponding Address                                                                                   
H.No.-D-67-68, Top floor, Viswkarma Colony                                                         Mobile: 09911037656  , 09354869768   
New Delhi , 110044.                                                                                      anupamtyagi2003@gmail.com                          
Career Objective:

To advance my career in Healthcare Quality System ,Pharmaceutical & Biotechnology Industries as a professional in this technological driven industry by giving an eye to every edge.
Personal Profile
I am well organized with an attitude of self motivation ,hard working and very determined. I enjoy keeping myself busy and put effort in my extra tasks. I enjoy working with other and able to work efficiently and carefully . I am reliable, I strive to always keep a positive attitude and have the ability to learn quickly.
Current Organization : 
Radicura Pharmaceuticals Pvt. Ltd
B-117,Okhla Industrial Area, Phase-I ,New Delhi
Designation :
Senior Quality Control Chemist
(Approved in instrument ,chemical & Microbiology section from NCT of Delhi)
Responsiblities:
►Testing of Raw -material & finished goods as per the Quality control requirements .
►In-house Calibration of instruments
►Conduct various analytical testing procedures as per manufacturing/QC SOPs. 
►Preparation of Standard Testing Procedure(STP)
►Preparation of working standards
►Assist in QC stability testing, prepare and maintain stability records and summaries. 
►Process & Method Validation.

Instruments Handling :
► H P L C (Shimadzu 2010AHT/CHT with LC Solutions & Waters with Empower Software)
► UV –VIS Spectophotometer ( Shimadzu )
► Karl Fischer Apparatus( Labindia & Spectralab )
► Dissolution Apparatus ( Labindia )
► Refrectometer
► I.R spectrophotometer
►Photo Fluorometer
►Polarimeter
►Potentiometer
►Thin Layer Chromatography
►Melting point Apparatus
►Disintegration Test Apparatus
►Autotitrater
Working Experience :    15 Years 4 months
Employment History
Job Title                                         Company                             From Date            To Date
Senior Chemist                  Radicura Pharmaceuticals Pvt Ltd.  August 2010                  till now
Quality control chemist         Brawn Laboratories,faridabad                                 March, 2008                August 2010
Quality control chemist         Protech Biosystems Pvt Ltd,Gurgaon                       Feb. 2007                    March 2008
Officer Assistant                   Akums drugs & Pharmaceuticals  Ltd.                     Oct. 2006                     jan. 2007
Quality control chemist               shagun Testing Laboratories,gurgaon                   Nov.2005                     Sept.2006
Trainee QC chemist            Unimax Laboratories,Faridabad                           August 2005 Nov.2005

Training :
► Eight Days training on "Enzymology and Microbial Technology" in IIT,Delhi  under Prof. Subhash Chand, Dept. of Biochemical Engineering and Biotechnolog .
►Short term work in Manufacturing Div.(Blending) in "Bharat Immunologicals and Biologicals Co. Ltd. (BIBCOL) Oral polio vaccine plant, Chola (Bulandshahar) U.P.
► One week training program from National Institute of Pharmaceutical Education & Research ( NIPER)  Institute, Chandigarh (Punjab).     
                    
Educational Qualification: 
►M.Sc. Biotechnology from Dehradun, H.N.B.Garhwal University, Garhwal in 2004
► Passed B.Sc. (Bio.) from Ch. Charan Singh University ,Meerut.
► Passed Intermediate from U. P. Board, Allahabad.
► Passed High School from U.P. Board, Allahabad.
Seminars Delivered: 
►A talk on " Embryonic Stem Cell Culture" .
►A talk on " Transport Mechanisms Through the Plasma Membrane" .
►A talk on " RNA- processing"
Project details
Title of  Dissertation: "Air Monitoring in an Environmental Monitoring Programme for Biologicals
Project work Carried out at-
Division of Quality Control & Quality Assurance
Bharat Immunologicals and Biologicals Corporation Ltd
(BIBCOL),OPV Plant, Chola, Bulandshahar,(U.P)
(A Govt. of India Undertaking)
Personal Details:-
Date of Birth                 :                06.11.1977                     
Nationality                     :             Indian
Gender                           :             Male
Present Address           :          Anupam Tyagi , D-67 Top floor,Viswkarma colony, New Delhi-110044
Languages known        :           Hindi and English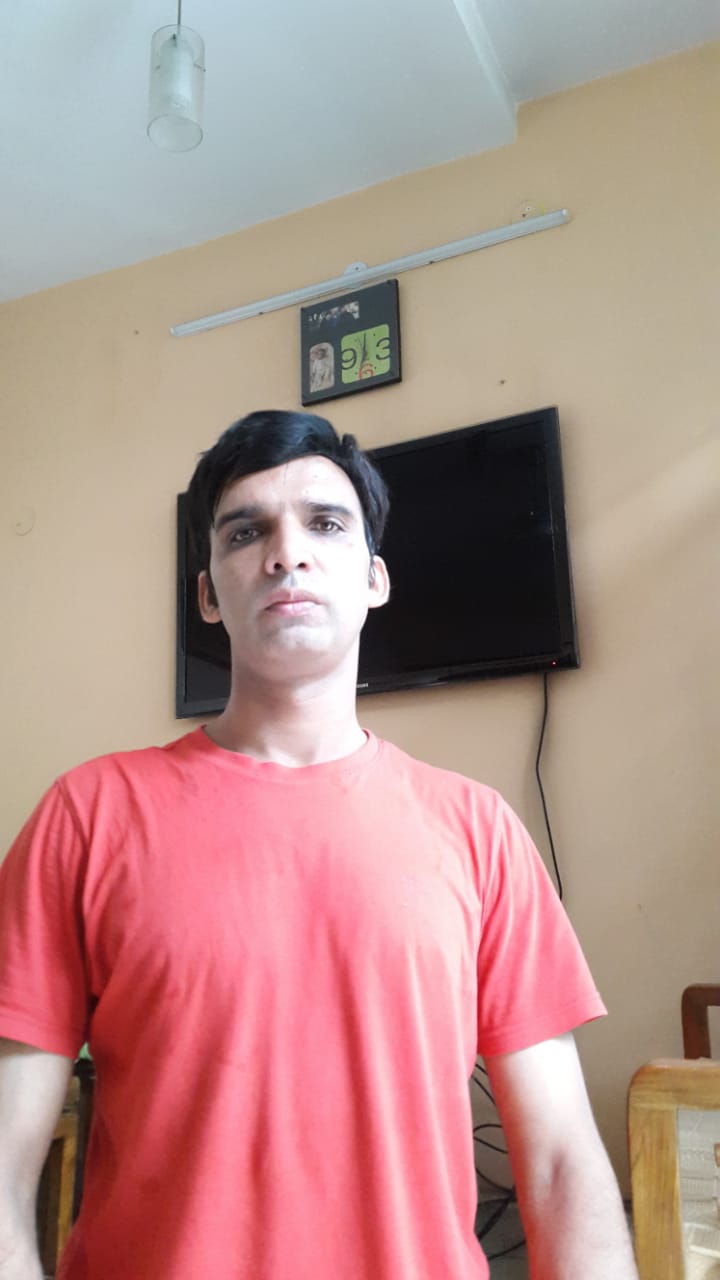 Current salary              :           38,000/- per month

                                                                Anupam Tyagi
 
You may be interested in these jobs
Found in: Talent IN - 5 days ago

---

React JS Location: Permanent Work from Home, Hyderabad, Gandhinagar, Pune, India Experience: 3+ years · Key aspects of this role: · Meeting with the development team to discuss user interface ideas and applications. · Reviewing application requirements and interface designs. · Id ...

Found in: Talent IN - 3 days ago

---

Hexaware Technologies

Pune

Description · Sitecore – Lead · Responsibilities · Expertise and experience in Project Planning,Sprint Execution, Effort Estimation and deployment activities. · Strong understanding of the Sitecore platform(CMS and DMS) and the ability to identify and evaluate requirements. · ...

Found in: Talent IN - 3 days ago

---

About Bharat Banking: · Bharat Banking is a new Department which has been set up to drive different business that the Bank does in Semi Urban and rural markets. The department is expected to drive business outcomes by focusing on partnerships, new products, innovation, reimagini ...