3 years ago · 3 min. reading time · ~100 ·
Role Of Geosynthetics & Geosystems In Sustainable Construction Methods ?
Geosynthetics and systems made of geosynthetics(Geosystems in general) are used for various applications in civil, environmental and other engineering applications.
Geo-systems facilitate sustainable construction by reducing the use of natural materials like aggregates & sands. For instance the thickness of the aggregate layer in a typical cross section for road construction can be reduced (by also keeping in view of the provisions in the code) so that less of quarrying is required adding to sustainable construction.(**Please watch the very short and interesting video about road construction with geosynthetics at the end of this article,Video #2 **) Similarly in river training works and sea wall construction also the use of sand/aggregates for creating protection structures or barriers could be eliminated to a major extent by making use of dredged and reclaimed materials (locally available slurry or any such by encasing them in the suitable Geo-systems or  tubular forms known as Geosynthetics containers /Geosynthetic tubular forms).
Here is trying to outline some of the applications (only some!) of Geo-synthetics systems for you all.
Flood control: Geo-systems for flood control
Flood control bags,Tubular structures and other stand alone systems or combination mechanisms.(Huge woven Geo-bags for example)
Depending upon the specific condition prevailing this need to be designed taking note of the historical data available for flood occurrences previously such as HFL and other engineering considerations.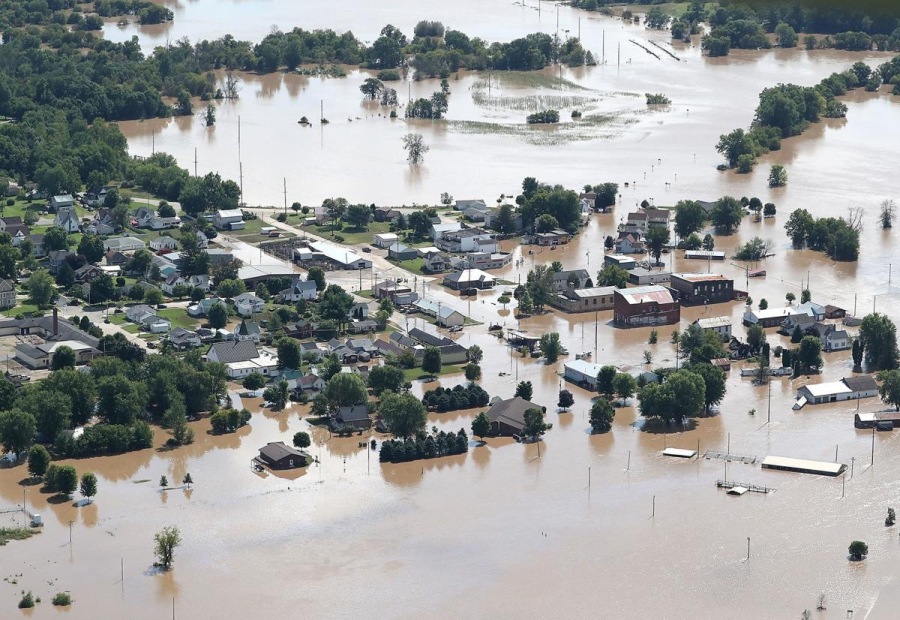 Erosion Control: Erosion control mechanism with Geo-synthetics
Systems made of Geo-textiles(Woven or non Woven)| Gabions|Grids and other products again independently or combined together as per the specific purpose for which this needs to be designed.
For example river banks, steep slopes on cuttings and beach side would require different considerations while selecting the system. Geosynthetic-tubular forms would be suitable for beach nourishment and prevention of erosion on the marine front. However the gabions may be more suitable if the height is more because this could be constructed as a wall by itself to protect the side slopes.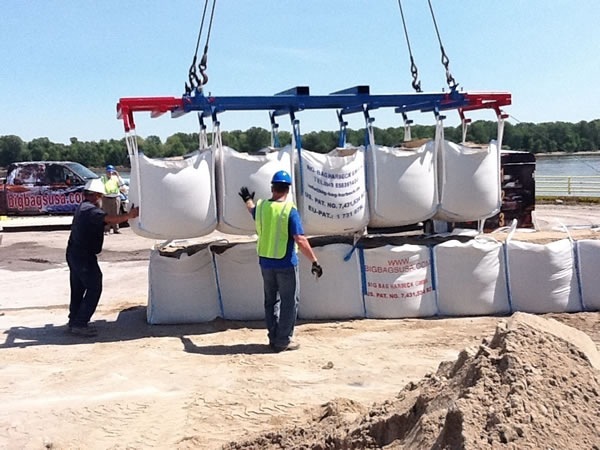 Embankment construction on soft soil: PVD's/Geo-grids and other Geo-systems.
It could be formation for a road or a railway line and in such a cases geo-grids and high strength woven geo-textiles or other products needs to be used again as per a specific design.
In cases where the soil bearing capacity is negligible there is also a need to do ground improvement in the first place.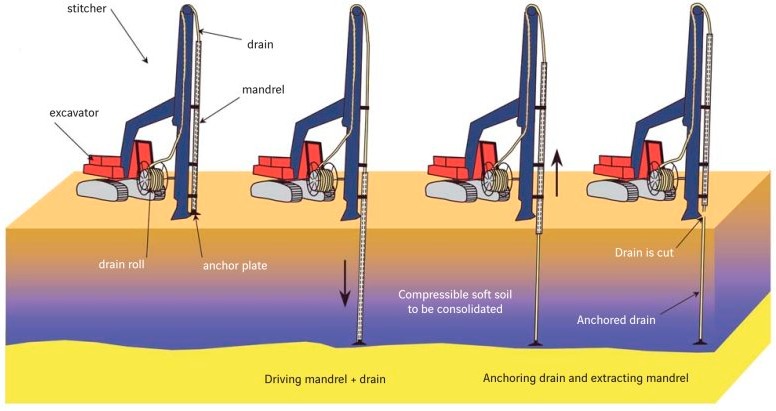 If it is a dredged and reclaimed area then it calls for using the vertical drains (Pvd's) to facilitate the process of consolidation relatively easy to start constructing on a faster basis.
Sub-grade strengthening: Geo products can be made use of in strengthening applications very effectively.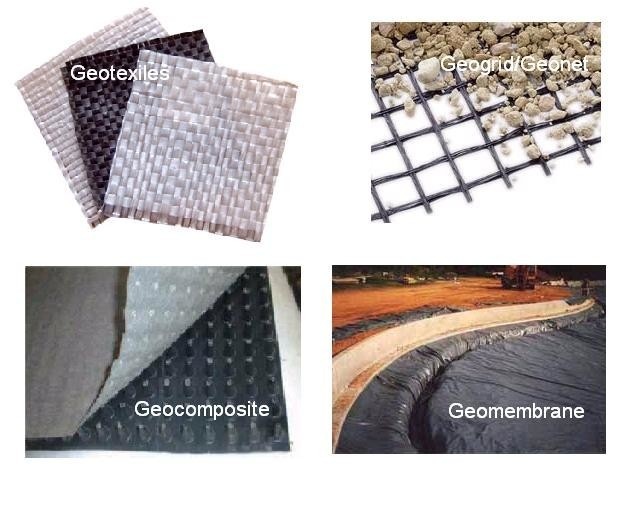 In all such applications depending on the particular site specific data the geotechnical engineer and the consultant in charge of the project need to take a call on the appropriate geo-synthetic system that would bring in the desirable results.
Often Geotextiles, Geogrids and even Geo-cells would be ideally suitable for these types of applications.
River training works and Sea wall construction:
Geobags|Geocontainers|Gabions are some of the systems used in this case.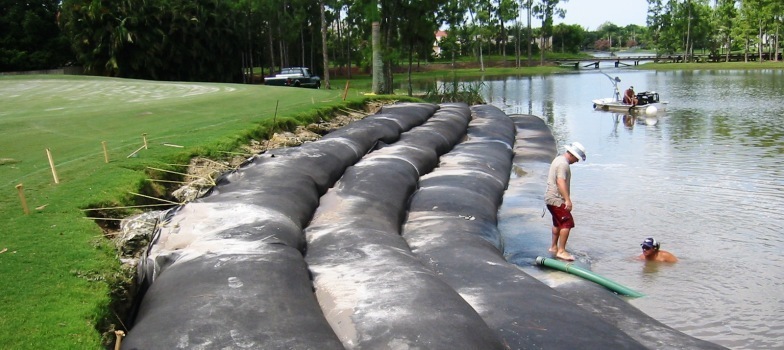 There are soft solutions and hard solutions in these cases again. While mostly in river training Geobags or even Gabions could be utilized. Of  course there are other new systems also being developed.
But when it comes to sea walls the concept is different. Obviously we are tackling a big wave force in these cases and also we need solutions which will sustain even the effect of Tsunami waves if such a situation were to occur. So seawalls are ideally made in combinations with large sized rocks/quarry stones which is used also along with appropriate Geo-systems .
These are some of the applications of Geo-systems.In fact the applications of Geo-synthetics in civil engineering being a vast topic only an attempt to touch the very basic aspect is made here. 
Please do not forget that, apart from facilitating sustainable construction, Geo-systems serve the precious purpose of protecting life and property from the vagaries of nature by being part of the control systems in various situations in coastal protection, river training, sea erosion control and flood control applications!
You may like to watch two very  short and extremely useful, interesting videos (One  below and the other at the end**)
Video #1( For the next video kindly scroll down further)
About Us : 
As Independent Consultants For Sustainable Engineering Products and Services Promotion, We are involved in Helping Manufacturers of Sustainable Products (and Business Owners Executing Such Products) to Move Forward Positively. As Consultants for the Promotion of Geosynthetic systems, we have been instrumental in helping our clients procure and install the right geosystems aimed at protecting the precious lives and safeguarding the property. Apart from that we support the Small and medium manufactures(SMEs) of Engineering Products and other Business Owners to get maximum leverage for their products and services by making use of the cost effective methods to get more end users through various lead generation methods. #Wehelpu2grow.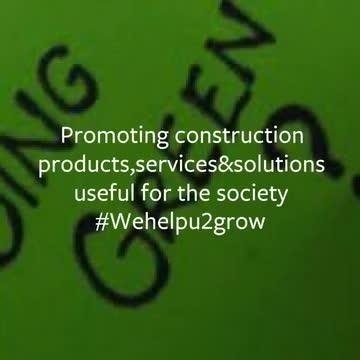 #Text Copyright  2019 by Prakashan B.V .All Rights Reserved.

You may like to reach out to the author through any of the email ids.. geosynthetics@bvprgj.com | prakashanbv@gmail.com | technicalmarketing@bvprgj.com | startupsupportingconsultants@bvprgj.com | 

Video # 2 **
You may be interested in these jobs
Found in: Talent IN+ - 1 week ago

---

Responsibilities : · Setting up and managing tele-calling people/agencies for PAN India · Setting up and managing field collection agencies for PAN IndiaResponsible for controlling the roll rates and recovery of overdue from the delinquent pool & controlling bucket wise delinquen ...

Found in: Recruit.net IN Premium - 1 week ago

---

ABOUT NEWTON SCHOOL · Come be part of a rocketship thats creating a massive impact on the world of technology On one side you have over a million college graduates every year with barely 5% employability rates and on the other side, there are 1000s of companies struggling to find ...

Found in: Talent IN - 1 hour ago

---

Job Description: · Aditya Birla Power Composite Limited is a joint venture of Aditya Birla Insulators (a unit of Grasim Industries Ltd.), the 3rd largest global Porcelain Insulator player and Reinhausen Power Composites (a Unit of MR) the 2nd largest Hollow Composite Insulator p ...