3 years ago · 2 min. reading time · ~10 ·
Roles and Responsibilities of Investment Advisor
Planning to make investments but have apprehensions about the type of investments to make or the kind of companies to invest? Then you need to have expert advice and guidance of experienced and professional investment advisors.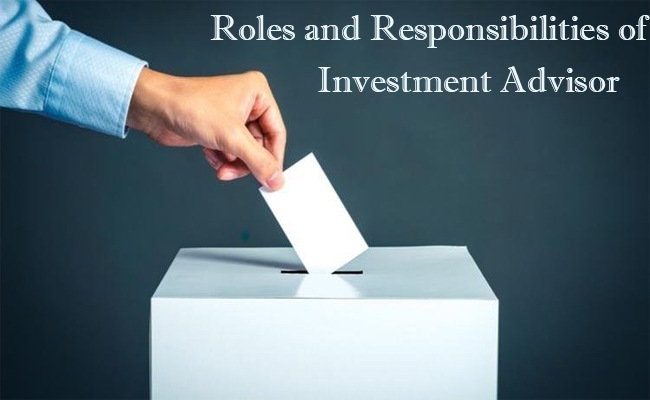 Investing in Mutual Fund Companies is not an easy affair and one has to have good calculations and foresight for getting long term benefits. Here comes the need for good financial advisors, who are capable of combining analytical, comprehensive fiscal knowledge and customer service skills to aid the clients define and reach their financial goals.
Here are certain responsibilities that a professional Investment Advisor in Delhi provides to the clients:
1. Educate: One of the first duties of investment advisor performs is discussing the financial goals of the clients and educating them on various ways to reach those goals. He gives various overviews of varied investment options and explains them a clear picture as to how each can benefit and cause hindrance in the client's objectives.
2. Determine the risk tolerance: Professional advisors help the clients evaluate how aggressive they can be with their investments and the amount of risk they can bear. The advisor considers the long term and short term goals, family status, employment, age and expenses of the clients so that they deliver accurate advice.
3. Analyze the investment options: Once the goals and needs of the client are established, professional advisors research and analyze investments, strategies and market conditions in determining which option is more apt for the client. Genuine advisors keep up with the market trends and financial news to ensure their guidance is relevant and flawless.
4. Provide investment recommendations: Professional advisors conduct in-depth research and then put forward relevant investment strategy that can help the client meet their goals. They usually combine more than one type of investment and help to diversify the portfolio and minimize the risk. Any change in the life of the client in terms of the birth of child, retirement, etc.; investment advisors reevaluate the investment approach and recommend necessary changes. Also, the experienced advisors monitor the portfolio of the client and propose the required changes accordingly.
5. Record keeping: As the work of advisors is sensitive they keep detailed records of service they provide like signed contracts, disclosure of statements, important documents of the clients, advisory reports, invoices, etc.
6. Compliance of ethics: As per the law, and other regulating bodies it is vital that advisors abide by strict rules to ensure impartial good faith and advice. This means investment advisors place the financial well being of the client at the top by disclosing all the relevant facts about the investment, avoiding any misunderstandings, acknowledging any payment or compensation they receive via fees for giving their professional recommendations.
You may be interested in these jobs
Found in: Talent IN± - 1 week ago

---

Orcapod Consulting Services Private Limited

Chennai

OBIEE/ODI/ ODI AdminLOCATION: Delhi, Noida, Kolkata , Mumbai , Pune , Chennai, CoimbatoreEXP:2.5-6YRNotice Period:: Immediate to 30 days (60-90 days profile wont be considered)

Found in: Talent IN± - 1 week ago

---

Varite India Private Limited

Bengaluru

Linux · SME: · Having 7+ years of experience in Linux server administration. · Strong hands-on troubleshooting experience with Linux RHEL.Good knowledge of Red Hat Satellite administration and management. Good hands-on knowledge with Ansible or native Linux scripting along with C ...

Found in: Talent IN - 6 days ago

---

WNS India

Bengaluru

full-time

Job Description · Experience in designing and coding using Python and AWS Lambda functions. · S/ he should have worked on serverless designs and auto scalable deployments in AWS. · S/ he should also have good knowledge NOSQL database like Aurora DB/ DynamoDB. · S/ he should be fa ...