1 year ago · 3 min. reading time · ~100 ·
Round Up Posts from Scalefusion MDM - Part 1 - Feb 2021
In this blog, we've shortlisted top blogs from Scalefusion to help the Mobile device management industry, folks. The blogs will be a guide for IT admins to perform activities related to Android, iOS, & Windows 10 devices.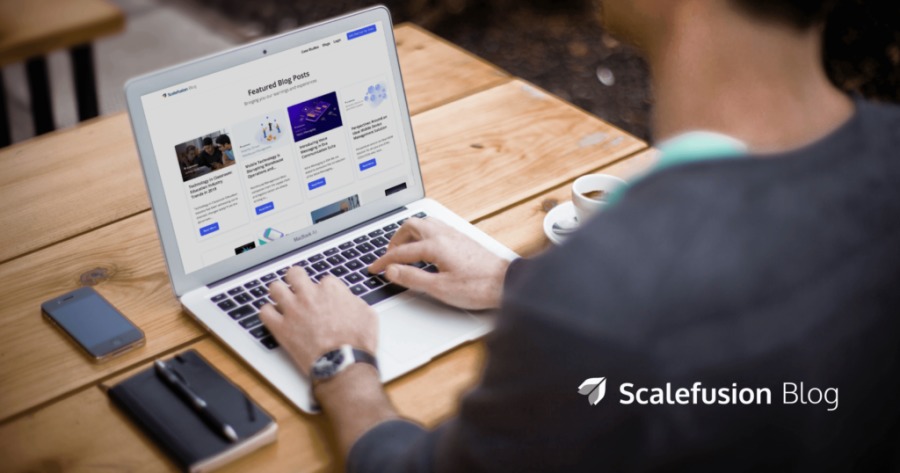 Configure Windows 10 devices to run only selected apps and prevent app download on Windows 10 devices. Lockdown Windows 10 devices in multi-app kiosk mode using Scalefusion Windows MDM.
With Scalefusion Windows 10 MDM, configuring Windows 10 devices in multi-app kiosk mode is quick and easy. Windows 10 kiosk mode is the most preferred device management model for enterprises as well as schools, to ensure the distractions, data costs, and security threats due to unnecessary apps are minimized while ensuring that end-users have access to the work/educational apps!
A Windows 10 device is configured to run only one website in many use-cases. In retail, the businesses want the customers to see only their retail website on kiosk devices strategically placed in the store. In hospitality businesses, the businesses want to set Wayfinder web apps, websites for self-check-in or booking in the waiting area or self-ordering or review web apps, etc on Windows 10 kiosks. In education, the schools might want to restrict the use of a single specially-designed website on Windows 10 kiosk devices.
Scalefusion Windows 10 device management provisions businesses to lock their kiosk devices to only one website.
Google Chrome is one of the most preferred desktop browsers with a market share of 67.66% and the popularity of the browser doesn't end here. Google Chrome also enjoys a fair share of preference and popularity on mobile devices. According to Statcounter, Google Chrome is used by more than 61% of mobile users. This means that not just the employees but also the majority of the users and customers are familiar with Google Chrome and prefer it over any other browser.
To set an Android device in kiosk mode to run Chrome browser, Scalefusion offers kiosk browsing mode. Learn the step-by-step process to configure Android Chrome Kiosk Mode with Scalefusion Android MDM.
There is a whole wide world of hackers and cyber attackers operating from an ever-growing threat landscape with sophisticated ways to steal/abuse corporate data. Company IT admins are hence advised to have a multi-step procedure to build a heavy defense against these dangers named malware, spyware, trojan, malicious apps, phishing attacks, and so on.
However, whitelisting of websites can surely play a big role in letting the companies reap gain two core benefits.
Windows Information Protection is a set of policies that help organizations and their subsequent IT teams in securing corporate data on primarily employee-owned devices without hampering the overall user experience, which is the prime reason for heavy Windows adoption in the enterprise environment.
The Microsoft Windows Information Protection (WIP), previously named Enterprise Data Protection (EDP) was introduced along with the Windows 10 anniversary update to support and complement the Windows 10 modern management. 
When we define the Windows Information Protection or WIP meaning, it is most often affiliated with employee-owned Windows desktops and laptops. But it is important to understand that Windows is an ownership-agnostic operating system, which means that the Windows Information Protection (WIP) can be also used to secure corporate data on 100% corporate-owned, fully-managed devices. 
Online examinations are rapidly replacing conventional paper-pen based examinations across the world, especially in the developed countries. Online examinations are preferred over the traditional tests and exams since they are technology inclusive, which is extremely important for today's tech-savvy world. Online exams pave way for quicker test results & analysis and offer flexibility to take the tests.
With Scalefusion Windows MDM, deploying Windows 10 devices as online examination kiosks are streamlined. Configuring the Chrome browser for online exams using Scalefusion can ensure the examinees can leverage digital technology for improved learning without inviting any malpractices.
Windows 10 computers are widely used for education for immersive learning. Learn the benefits of Windows in education, the challenges, and how to mitigate them.
The use of Windows 10 for education can be immensely beneficial for augmenting the learning experience for kids. By establishing appropriate policy applications & controls, the experience of using Windows 10 for education can be elevated.
Secure, control & monitor Windows 10 devices used for your students and kids with Scalefusion! We also offer discounted rates for schools and NGOs.
Many businesses provide mobile phones & tablets to their employees as a part of the mobility implementation drive, which offers flexibility, and promises to improve work efficiency. And, with the expectation of increasing the overall productivity and growth. But with more and more use of mobile devices, there are various measures that organizations have to implement to keep business data & devices secured. 
Here, here we can see the importance of the lockdown of Android tablets for business purposes.
Find out how can you lock the iPad to one or a single website with Scalefusion and what other benefits can you achieve with it.
The greatest advantage of Scalefusion iPad kiosk mode is that you can do all these remotely from a central web-based dashboard over Cloud. It enables this control for the multiple numbers of devices which may be deployed at various location.
As the digital transformation took the world to ride the technology wave, the meaning of kiosk evolved and how! In modern terms, kiosks are units with digital devices serving a very specific business purpose.
Scalefusion Mobile Device Management extends its kiosk management feature to replicate the kiosk software capabilities through its user-friendly web-based dashboard. Explore the benefits of managing digital kiosks with Scalefusion!
Also, any feedback or comments would be very much appreciated.

You may be interested in these jobs
Found in: Talent IN - 3 days ago

---

Kotak Mahindra Bank

Bengaluru

Job Description · Job Role: · To lead a team of relationship managers. · Manage, develop and enhance deepening of the relationship with Channels (Branch, DSA, Builder) · Responsible for achieving team targets and sales volume. · Ensuring Teams Productivity along with Location Pr ...

Found in: Talent IN - 6 hours ago

---

Millennium

Bengaluru

Full time

QA EngineerThe Market Data team is looking for a QA Engineer to join the team The responsibilities include: · Create and design application and software testing processes · Automated testing. · Creation of test plans and embrace new approaches for seeking bugs. · Advise best prac ...

Found in: Talent IN - 2 days ago

---

Shell

Bengaluru

Full time

, India · Job Family Group: · Information Technology (IT) · Worker Type: · Regular · Posting Start Date: · August 2, 2022 · Business unit: · Projects and Technology · Experience Level: · Early Careers · Job Description: · In Shell, we continue to deliver a process that will wor ...