Things to Consider While Choosing a Magento Website Design
Are you about to choose a Magento development services? Magento is an open-source eCommerce platform. Magento, Inc. developed it and released it on 31st March 2008. In recent times, Magento website designing is most prevalent in comparison to other platforms. Having a good web design is very important as it has a significant impact on your site. It reduces the bounce rate, increases mobile traffic, highly improves the SEO, and reduces the need for maintenance of the store. The online shopping industry is growing at a very high rate. Thus, if you are looking to build your online business or generate sales from your online store, Magento is the best platform for it. There are various things to consider before even beginning with that. So, here are the things that you should consider while you will be choosing a Magento website design: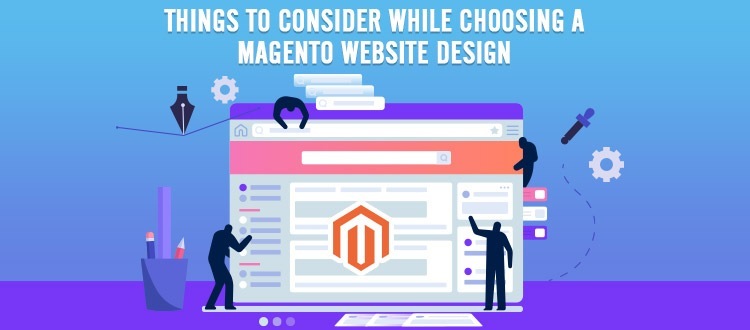 1. Speed
The speed of your online store matters a lot when you choose a Magento Web Design. A slow store will result in a significant loss in the business. The loading time of your store should be less than 2 seconds minimum, or it might exhaust your customer. Here is how you can increase the speed of your site:
 
Activate Flat Catalog
 
Keep the logs clean
 
Activate Caching
 
Uninstall plug-ins that aren't of any use to you anymore
 
Ensure that the version of your Magento site is the latest one
 
Choose a high-speed hosting
 
2. Hosting
Considering the type of web-hosting while choosing a Magento website design is one of the essential points. It is not easy to manage your host. It required technical support. Because of this, you should make sure to choose the hosting from the best providers because a lack of responsibility here may lead to a significant loss in your business. Because the hosting you provide is not good enough, you won't get the help you need when there is an emergency or an issue that needs to be resolved. Hence, all the time, choose the best hosting service providers. Here are a few of best-hosting providers for Magento:
Digital Ocean
 
Cloudways Hosting
 
Rackspace Hosting
 
Magemojo Hosting
 
Webscoot
 
3. Strategy
Aspects like your target audience, domain name, and the structure of your website come under the strategy. It is one of the most cardinal things to consider while choosing a Magento web design.
 
For your target audience, you should determine the kinds of problems they are facing and try to offer a solution through your business. All the things should be immensely determined. For example, if there is a lack of a particular product, you should come up with that product. And then you should explicitly tell the users everything they need to know about it. If it is well enough, you will attract a lot of customers.
 
According to that, you should keep a catchy domain name. It should be short, but it should also have a professional feel to it. In a way, it should tell them about your business. According to the target audience, you can choose whether you want an international domain or not.
 
The complete structure of your Magento website development or design should be organized. And on the outside, it should look straightforward. The main point to be considered here is that it should be effortless for the user to navigate through your store.
 
4. Theme
While choosing a Magento website design, the theme of it matters a lot. It gives an aesthetically pleasing look, which will be a plus point for you. An aesthetically pleasing item will stop indirectly reduce the bounce rate because the audience would want to stay and navigate through it after they see your theme. You should make sure that your idea looks good, has beautiful features, is mobile-friendly, and compatible. You can get an item from Magento, or you can create one for yourself and then upload it.
 
5. Security
Each store has a lot of confidential information. Information like your credentials, payments, etc. which should always persist private and confidential. Such information should be protected from any cyber-attack at all costs. Therefore, for these purposes, security is fundamental to consider while choosing a Magento web design. Here are a few security measures that you can take for your Magento online store:
 
Two Factor Authentication
 
A solid password
 
It should be made sure that your connection is secure. An HTTPS connection is highly encrypted. Sites that have HTTPS connections have a 'lock' symbol on the top left corner of the search bar where the link is displayed.
 
6. Compatibility
Compatibility is a vital aspect when it comes to choosing the best Magento website design. It indirectly decides your traffic too. For example, if the plan you have is not compatible with mobiles, it won't load or become challenging for the user. So it must be made sure that the site is responsive and is compatible with all versions. Here is how you can make your store compatible:
 
Make use of speed test tools to check your performance. It will help you find errors that you can fix
 
Zoom should be in the customer control
 
Serve the same HTML for desktop as well as the mobile version
 
Use Magento extensions like CouchCommerce and Tenfoot. These are automatic plug-ins, which will primarily help in making your store compatible with mobiles.
 
Conclusion
 
The main goal should be able to generate sales from your Magento store. For that, having the best website design can prove to be beneficial.
 
These were a few of the most important things that you should consider while you choose a Magento web design. It is one of the largest global eCommerce platforms. Moreover, Magento web design is an SEO-friendly eCommerce website development platform. It has an extensive community of developers and day by day, and more people are turning towards Magento for building their stores.
 
The website design you choose will undoubtedly be the perfect one if you consider all these things. You may go and build one for yourself. It's free of cost.
 
You may be interested in these jobs
---

Hitachi Vantara

Mumbai, India

Job Overview: · The primary role of a PreSales Solutions Consultant is to work collaboratively with the direct sales team as well as partners to provide support for all presales solution aspects of ...

Found in: Talent IN C2 - 2 days ago

---

JOBS N TA HR Services

Kottayam, India

To achieve business target through field sale of insurance · To recruit train & develop a team of insurance agent to create business opportunity · To assist agent in sale call for conversion

---

timesascent

Ghaziabad, India

Full time

Applications are invited for the post of Director for our college at Indirapuram, Ghaziabad · Eligibility: · A dynamic educationist with leadership quality and dedication · Experience: · 15-20 years. ...