3 years ago · 4 min. reading time · ~10 ·
Things You Should Know Before Building Education App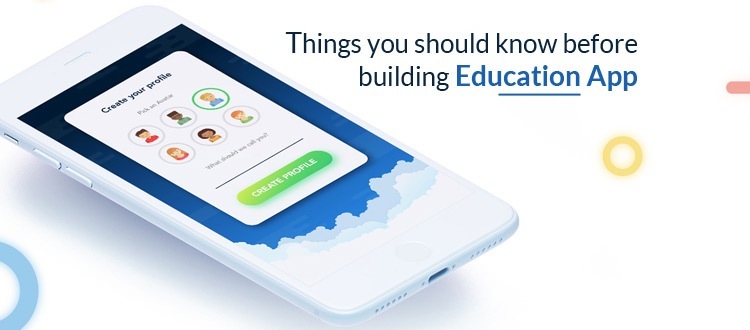 Entrepreneurs all over the globe actively seek for innovative ideas and want to serve the users best. Innovative ideas can be about anything. The primary concern about these ideas is that it must serve the users to a great extent.
Any startup that took the form of a huge organization later started with one thought and that is to serve users with the best quality service. The technology industry is bringing new technologies every day. The trends of technology include software and app development. As the mobile app development is a decade old now. But the popularity of mobile applications has increased in past few years.
Every industry has started using mobile apps. Some companies use apps for internal usage; for employees. There are some ERP apps that are not for customers. Some industries develop apps for end users i.e. consumers.
Just like other industries, the education industry is using technology to facilitate students. The optimal use of technology in the education industry is in the form of mobile apps. Education app development market is growing at a great speed. Worldwide mobile education spending is estimated to reach 37.8 billion US dollars by the year 2020. Source: Statista.
Read More: 

How are IoT and Live Streaming Benefiting the Education Sector?
Hemendra Singh 
These apps can perform various functions such as offering a personalized learning environment and a virtual classroom. Students can learn anything from anywhere. The best part about these e-learning apps is that students need not go anywhere to learn. Also, there is no time barrier. These apps are extremely helpful for those students who work for study. There are many people who pursue education while working to earn money. These apps are great to help those.

What exactly are education apps? 
These apps contain all syllabus for all classes and standards. Along with the syllabus, these apps contain a class timetable, exam schedules, school/college events, etc. Such apps are partnered with particular educational institutes. Few educational apps offer a virtual classroom and offer authenticated certificates to students.
A famous research company called Metaari conducted global research on mobile learning market and concluded that m-learning i.e. e-learning revenue will increase 3 times as of now in the year 2019 in almost 32 major countries including India, USA, UK, etc. Another research company known as Markets and Markets stated that global mobile learning market will hit $37.60 billion by 2020.
All the reports from Metaari, Statista, and Markets & Markets indicate a similar conclusion i.e. global e-learning and the e-learning market is all set to grow with rocket speed. As mentioned initially, most of the startups and entrepreneurs are working on developing an educational app . It is suggested to consult a trustworthy mobile app development company. 
While creating an education app, the company must refer some of the important tips and understand essential features before starting the design and development part.
Tip 1: Choose the right platform- 
This is the most confusing question for developers and any app development company. Most used platforms are iOS and Android with a very fine line of difference in the share. Both platforms have different features and advantages. Android has more than 3 million apps in the play store whereas iOS has 2.2 million apps in the app store. Apple has less number of users in comparison with Android because Apple is much more strict in terms of quality. 
Apple entertains no errors and bugs. Developers need to follow all guidelines properly while developing iOS apps. On the other hand, Android is a bit lenient. Most of the users access educational apps on tablets and iPads.
Tip 2: 

The design has to be perfect- 
It is important to consider the fact that end users are students. Studying at any age can be boring. The motto is to make the study interesting. Unlike other apps, the design and appearance of the education apps must be attractive so that students find it interesting to study. Develop a friendly user interface to deliver easy access.
Tip 3: 

Content is the king- 
It is a known fact that most of the users prefer diagrams, infographics, charts rather than long paragraphs of text. Hence, the content should be short, crisp, meaningful and precise. Make sure the content you are adding is easy to understand and not too technical as it may create difficulty for students to understand well.
Tip4: 

Review- 
Many app developers launch the app for a selected number of users. these users later offer reviews. Similarly, education apps get reviews from users. It is a type of app testing. These users give valuable feedback about the app functionalities, the structure of apps, the design, the content, etc. It helps the developers to make the required changes in the app to improve app performance.
What are features important to add in an education app?
Syllabus:

The app must contain all the topics from the syllabus and not miss into something. All topics should be available on the app. Developers should add a search bar where students can search the topics they want to learn. These units are usually on a weekly basis. The user can download study materials anytime they want.

Push notifications:

This feature is essential. Developers must add a notification feature where the user gets all the latest updates about the syllabus and school events. Institutes can send push notifications about the educational events happening. Also, new videos of the syllabus can be informed about through push notifications. By adding this feature, the student can be in touch with the institute out of campus too.
Real-time messaging:

Along with other features, it is important to offer the real-time messaging feature. It allows students to interact with staff members and teachers/professors. Also, many education apps offer the function of real-time messaging to let parents interact with teachers to discuss their child's study growth.
Personal profile:

This feature is used by students to form a personal space in the app. Students can make notes in the app itself and later refer them. Each user should be allowed to create a personal account and save the downloaded study material.
Virtual reality:

There are numerous opportunities for VR in education app development market. VR gives a visual image of any concept and also videos can help a lot to students to learn new things.
Conclusion:

 
It is recommended to hire dedicated app developers to develop an education app as it involves a lot of functionalities and features. The tips and essential features are mentioned in the article.
You may be interested in these jobs
Found in: Talent IN - 2 days ago

---

You will be working as Associate Project Engineer and will be part of Process Automation Business Area for Energy Industries Division based in Bangalore, India. In this role you will be reporting to the Engineering Manager. You will be primarily responsible for supporting enginee ...

Found in: Talent IN± - 3 days ago

---

Job Description · Job Description : · A Minimum of 2-7 years of experience in Automation testing using Selenium Web driver. · Hands on experience into developing Automation framework. Hands on experience into developing Automation framework. · Hands on experience into developing ...

Found in: Talent IN - 17 hours ago

---

Arrow Electronics

Bengaluru

Full time

Position: · Sr Azure API DeveloperJob Description: · What You'll Be Doing · Designing and delivering Azure API and associated data platform solutions. Designing and integrating Azure platforms in a manner which allows the management and provision of data in a secure and reliable ...