2 years ago · 2 min. reading time · ~10 ·
Top 10 Most In-demand MBA Specialization
Are you an MBA aspirant? Do you want to make it big in the business world? Then, my dear, you need to be aware of the fact that there is too much competition in the industry. So, you need to be fiercely competitive in order to make your struggling period a bit less harsh. It is necessary that you stand out from the crowd using your skillsets. Earlier, the scenario was a bit different. Only having an MBA degree was sufficient for securing a prestigious job. But the task is not that easy today. With an upsurge in the number of MBA aspirants, the level of competition has gone too high. So, although the MBA is an exceedingly valuable credential to add to your CV, yet you need to find ways out to stay ahead of the competition.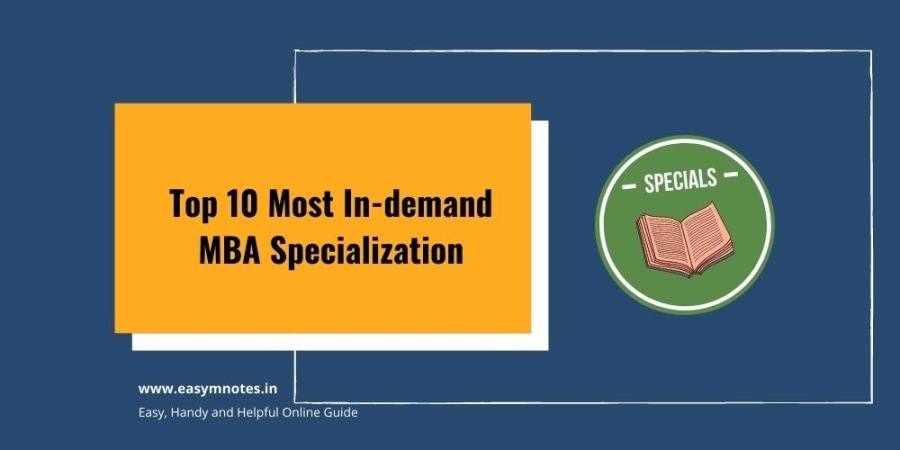 How to differentiate yourself from the rest of the MBA aspirants?
Attend an accredited, non-profit MBA institution.
Enrolling yourself to a B-school that offers real-world application MBA programs.
Selecting an MBA specialization in order to achieve expertise in a particular subject area.
Best MBA specialization that you can go for:
Here is a list of best MBA specialization courses that you can opt for securing your future:
 1. Healthcare administration: This is perhaps the best MBA specialization for the future. The industry is expected to see a rapid boom in between 2016 to 2026. If you prefer working in a healthcare field and accomplish success, then opting for this MBA specialization course is a must. The specialization will bestow you with essential healthcare expertise as well as critical business skills.
 2. Information security: Information security is the need of the hour in multiple job sectors. If you possess the key information security skills, it will be quite easy to differentiate yourself from the rest of the crowd. On top of it, an IT professional with valuable information security skills can bag a high salaried job conveniently.
 3. Leadership: For every business person, possessing prominent leadership skills is a must. In order to have the knowledge and understanding of leadership skills and thereby incorporating those skillsets within yourself, you can opt for MBA in leadership skills.
Also Read: 15 Leadership Skills for Career Success
 4. Employment law: Go for this specialization course if you prefer to pursue employment law from a business perspective. This course is quite profitable for human resource professionals.
 5. Supply chain and operations management: This one has its focus on areas like logistics functions, network planning, supply chain designs, and so on. You will prepare yourself for international logistics, import-export operations, etc. It will give a boost to your entrepreneurship capability as an independent supply chain or logistics vendor.
 6. Finance: If you want a senior or managerial profile in the financial sector, then this course can be the ideal choice for you. It emphasizes niches like organizational behavior, communications, and business leadership.
 7. Marketing: The aim of this course is to offer the students expertise in consumer behavior, promotion management, selling strategies, and brand management. You will gain an array of skills, including leadership, analytical ability, teamwork, robust communication, etc.
 8. Human resource management: This is the best MBA specialization for the future. It will train you to become a future manager so that you can hire employees as well as guide them in developing their skillsets. You will also get an elaborate knowledge about performance assessment, workforce regulation, compensation strategy, and much more.
 9. International management: If you want to go abroad and settle there for work, then this course will be perfect for you. The specialization will teach you about operations, finance, strategy in an overseas context. With the help of this specialization, you will be able to expand your business all over the world.
 10. Entrepreneurship: If you want to get your startup off the ground and hone up your entrepreneurship skills, then this course will be the best for you. It helps you with critical management and business development ideas and experiences as well as ways and methodologies for pitch ideas as well as secure funding.
Also Read: Resume Design Ideas for MBA freshers
So these are the top ten specializations in MBA that you can opt for to grab the attention of the prominent industry leaders. As you opt for one or the other specializations, the chances of your secure and permanent career settlement increase manifolds. So, get ready to flaunt your skillset to the world and establish yourself as one of the greatest business personnel of all times.

Author in Source Title
Article Reference: Easy Management Notes

You may be interested in these jobs
Found in: Talent IN+ - 4 days ago

---

KEY SKILLS SAP BASISYears of experience: 6 to 13 years · Locations: · Pune, Bangalore, Chennai, Mumbai · Notice - 30 To Immediate JoinerSkill Set : · SAP BASIS · Job Description:Extensive experience in SAP Basis operation management for large SAP landscapesGood experience in SAP ...

Found in: Linkedin IN Premium - 3 days ago

---

SocialChamps Media Pvt. Ltd.

Pune

Job Designation: ECommerce Advertising Specialist (Amazon, Flipkart, Google, FB ads specialist for Ecommerce Industry) · Job Location: Bavdhan, Pune · Industry Type: Digital Agency · Qualification: MBA Marketing, Mass Com & Journalism candidates will be preferred. · Eligibility C ...

Found in: Talent IN - 8 hours ago

---

HDFC Bank

Adilabad

Permanent-Sales Vertical

Group Company: HDFC Bank Limited · Designation: Retail Branch Banking-Current Account Sales Officer · Position description: Outbound Sales Resource responsible for sourcing business from the market and responsible for fulfilling of leads of Branch Staff · Primary Responsibilitie ...