Why should you implement CAD automation in SolidWorks?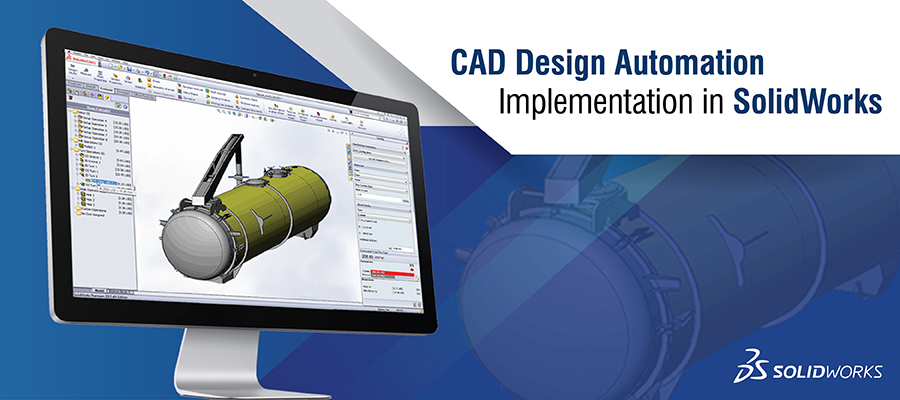 Stand-alone CAD platforms are time consuming and monotonous for design engineers. With newly developed automation platforms in SolidWorks, designers can now automate complex and repetitive designs through logical rules. To name a few, Designers can generate better drawing accuracy, better data management and develop reusable design libraries with automation. This in turn reduces the design lead time and surges the quality of final deliverables. 
 
Benefits of automation in using DriveWorks in SolidWorks
DriveWorks is a CAD automation and customization platform that integrates with SolidWorks to automate product designs. By exploring depths and potential of DriveWorks we can automate various features in a product design cycle.
Customized drawings and BOM generation 
Master models and standard BOM templates can be predefined in SolidWorks. Once the template is ready, details and custom properties are entered by automation specialists. DriveWorks is powered with a rule based algorithm, which automatically updates the BOM in accordance to the customization in the master model. 
Custom quotations and Approval e- mails
With the Excel rules and Macros, calculations can be performed internally in DriveWorks to generate custom quotations. The quotation document can be sent from DriveWorks using "Email Editor" with cc/bcc/subjects and attachments. 
Custom design features
Features can be modified by making changes to the master model in DriveWorks. The changes are made in the SolidWorks model and reflected back to the DriveWorks interface. Characteristics like BoM, tables, custom properties, dimension positions; view scales, templates, color, design pattern and feel can be driven using DriveWorks. 
 
Automation: The key to effective and faster design practices 
Automation has become the driving force in solving productivity issues for designer. With constructive automation, Designers can integrate various tools and provide accurate solutions in a short time frame. CAD automation facilitates designers to provide error free solutions with an accelerated time to market period. It has become inevitable in developing a reliable final product.
Have questions related to DriveWorks implementation? Read more about the top FAQs on design automation using DriveWorks here and take a call for your business.  
You may be interested in these jobs
Found in: Talent IN - 4 days ago

---

Zettamine Labs Private Limited

Secunderabad

Are you trying to shift to IT sector but lacking the right skill · If yes, then grab this opportunity. · IT working experience is not required. · Start your career as a developer. Work with Premier Nationalized Bank Head quartered in Navi Mumbai · Prior experience in Mainfram ...

Found in: Talent IN - 4 days ago

---

Advent Global Solutions INC

Gurugram

Qualification: 15 years of full time education · Job Description: · Project Role : Application Lead · Project Role Description : Lead the effort to design, build and configure applications, acting as the primary point of contact. · Work Experience : 4-6 years · Work location ...

Found in: Talent IN - 3 days ago

---

Role Summary · Business Generation · Reference generation through market mapping · Gathering market intelligence · To handle the broking channel in specified location with respect to all lines of business - Property, Energy, Liability, Marine, PL & A& H. To b ...