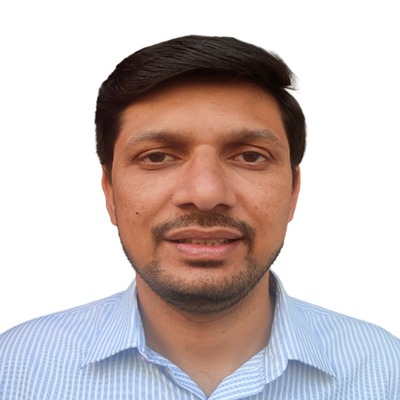 About Ashish Patel:
Experienced with 10+ years in Stock Market risk management. Expertise in Market Risk, Credit Risk, &
Operational Risk. Proven track record in mitigating risks, analyzing trends, and optimizing processes.Strong communicator and trusted advisor. Ready to drive growth and contribute to success.
Experience
03/2020 – present
Nuvama Wealth Ltd (Mumbai, India)
Assistant Vice President – Risk
•ESOP Book Management: Handle ESOP book processes, including reviewing
corporate proposals, initial funding, funds and securities payout, addressing
shortfalls, hedging, stress testing, RBI compliance, and risk aging.
•Approved Securities Classification: Define an approved securities list and classify
them into various haircut buckets.
•Funding Management: Manage funding against shares, including evaluation and
approval of funding against securities, mutual funds, and bonds.
•Capital Market Processes: Thorough understanding of order and trade
management, margin funding, clearing and settlement, balancing, and
reconciliation for equities and derivatives.
•Risk Process Management: Ensure smooth functioning of daily risk processes,
covering T+5 and risk liquidation, trade modifications, etc.
•Program Development and Approval: Provide logic and develop programs, obtain
BRS approval, conduct UAT, and obtain approval for going live.
•Risk MIS and Dashboard: Generate risk-related MIS reports and develop
dashboards for top management.
•Trading Platform Testing: Conduct UAT and CUG testing of new trading
platforms.
•Regulatory Compliance: Daily review of exchange and regulatory circulars and
implementation of necessary changes in collaboration with stakeholders.
•Haircut Review: Periodically review haircut parameters and obtain necessary
approvals.
09/2018 – 03/2020
ICICI Securities Ltd.
Manager - Corporate Risk Management
•Institutional Client Limits: Set and manage limits for institutional clients as per
risk policies.
•Trading Platform Testing: Test newly incorporated additional parameters of
trading platforms (Omnesys, Trade Racer) for optimal functionality.
•Business Solutions: Develop and implement programs and logic to provide
effective business solutions.
•Adhoc Limit Approval: Approve adhoc limits in accordance with the risk policy.
•Stress Testing: Conduct stress testing to evaluate and address potential risk
scenarios.
•ESOP Funding/Shortfall: Manage funding and address any shortfalls related to
ESOP.
•MIS: Generate necessary MIS reports for risk-related analysis and decisionmaking.
•Risk Analysis: Perform risk-related analysis to identify and mitigate potential
risks.
•Regulatory Compliance: Stay updated with exchange and regulator circulars and
implement required changes.
•Scrip Basket Management: Create and manage scrip baskets as per risk policy
guidelines.
08/2011 – 09/2018
Edelweiss Broking Ltd.
Assistant Manager - Risk
Risk Mitigation: Set and manage client limits on branch calls to effectively
mitigate risks.
•Position Monitoring: Monitor client positions, margins, and exposure, and take
necessary actions, including position liquidation.
•Stress Testing: Conduct stress testing to assess potential risk scenarios and
ensure robust risk management practices.
•Compliance and Audit: Provide clarifications to internal, statutory, and regulatory
auditors regarding risk-related matters, ensuring compliance.
•Risk Framework Oversight: Oversee and review the Risk Framework and Policy,
ensuring their effectiveness and alignment with organizational goals.
•Trading Platform Evaluation: Test and evaluate trading platforms, incorporating
new parameters for seamless operations.
•Business Solutions: Develop innovative programs and logical frameworks to
address business challenges and optimize risk management.
•Credit Risk Management: Assess and sanction funding while effectively managing
credit risk, particularly LAS .
•Performance Dashboards: Prepare comprehensive dashboards for senior
management review, providing clear insights into risk-related metrics.
•Collaboration and Communication: Collaborate with branch and zonal heads, stay
updated with circulars, and conduct risk-related analysis to identify and mitigate
potential threats, ensuring efficient risk management practices.
Education
2009 – 2011
Hyderabad, India
Chartered Financial Analyst (Till 5th Sem)
ICFAI University
Result : 55%
2007 – 2008
Nicosia, Cyprus
Higher Diploma in Hotel Management
Laureate International University
Result : 2.94 / 4 GPA
2003 – 2006
Ahmedabad, India
Bachelor of Business Administration
Gujarat University
Result : 61%
Professionals who compete with Ashish
Professionals in the same Accounting / Finance sector as Ashish Patel
Professionals from different sectors near Mumbai, Maharashtra
Other users who are called Ashish
Jobs near Mumbai, Maharashtra
---

Seven Consultancy

Thane, India

Full time

SALARY · : · 3 · LPA · LOCATION · : · Thane, Maharashtra, India · VACANCIES · : · 1 · QUALIFICATION · : · Any Graduate · MALE/ · FEMALE · : · Male · EXPERIENCE · : · 1 Year to 3 Years · JOB DETAILS ...

---

Responsibilities · Teach and mentor students online through the Tutopiya's platform to meet the student's learning goals. · Use an interactive approach to make lessons exciting and engaging. · Provide ...

---

upGrad Rekrut

Mumbai, India

₹1,000,000 - ₹2,000,000 per year

A Project Manager is a professional in charge of ensuring their teams complete all projects on time and within budget. They prevent scope creep while also managing individual tasks for their respectiv ...