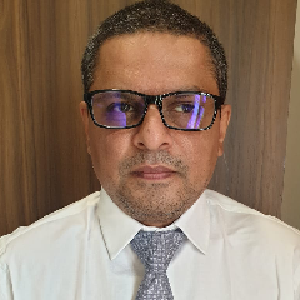 About Himanshu Kothari:
As a candidate with extensive experience in Finance Controller, I am highly skilled in Budgeting, Cross Function Management, Stake Holder management, Cost Control, Taxation – Vat, Team Management. My solid background in People Skills and networking as well as excellent leadership skills have allowed me to manage teams with exceptional performance.
The opportunity to join this esteemed Organization greatly interests me because can do attitude and ready to accept challenging task. As a holder of postgraduate in Finance and Bachelor of Commerce I can competently execute and deliver the task assigned.
I believe that I would make an asset to your team and I offer my resume for your review.
As per my professional summary, my qualities and experience make me highly suitable for the role of Senior Management role in Finance.
I am highly regarded for Financial Controller. I am proficient in systems like ERP Diamond, ERP XL Webpro, Tally ERP, Microsoft ERP Navison Software, Microsoft Dynamics SL, ZOHO Books.
Experience
FREELANCE PROFESSIONAL – HOSPITALITY & GENERAL SERVICE INDUSTRY
ACCOUNTS AND FINANCE | DEC 19 TILL DATE
Handling USA Finance and Accounts day to day Operations- Budgeting & Variances Month End Close out, Monthly P&L & Balance Sheet, statutory Compliance, Managing debt & equity funding, Audit for different clients and corporates
 Supervised USA Accounting, prepared financial reports, Analysed financial data and monitored internal controls
 Managed and prepared income statements Participating in budgeting processes
and financial transactions
 Streamlined accounting functions and operations and developed plans for financial growth as well as evaluated and managed risks.
 Coordinating audit processes
 Liasoned with Bankers & Financial Institution, State Comptroller, City Comptroller.
 Supervised full month end accounting cycle closing month end activities.
 Worked with various brands of Franchisee Hotels i.e. IHG, HYATT, Marriott, Hilton.
 Attended meeting with Chairman to discuss & develop business and strategic plan.
 Developed & registered Tax profiles for different segments with States in USA.
 Migration of ERP, from Preparation of Chart of Accounts to Go Live, created function for MIS Report, Dash Board report for Management
SHERATON HOTEL, ABU DHABI
FINANCE CONTROLLER| JAN 17- NOV 19
Finance and Accounts day to day Operations- Debt Finance, Project Finance, Budgeting & Variances Monthly P&L & Balance Sheet, statutory Compliance like VAT and Tourism on monthly basis, Managing debt as well as equity funding
 Implemented all necessary control to safeguard the assets of the Hotel.
 Prepared and interpreted the financial statements and reports of the Hotel.
 Provided financial information to management as tools for maximizing profits and planning for the future, reports which stimulate management action.
 Maintained proper and complete records of the Hotel.
 Ensured the accounts, records, and transaction of the hotel are accurate and correct at all times.
 Compiled together with other department heads, budgets and forecasts covering all activities of the Hotel Compile treasury, Cash Flow forecasts for the business.
 Ensured that the established controls and procedures in respect of the controller's area of responsibility are being compiled with all times.
 Ensured that the Hotel's computer systems and their software are fully utilized, well safeguarded and properly maintained.
 Implemented future changes / addition to the electronic data processing systems of the Hotels.
 Ensured that the hotel complies with the established credit and collection procedures, with particular attention to front office, group and meetings / banqueting processes.

Mob: +91 9833453022/ 9326916425 | Email: him1978_kothari@yahoocom
 Gathered and presenting key data like MIS, Investment plan to the Board of Directors Ensuring that all financial controls for the division are met and adhered to at all times
 Prepared foreign remittance documents, and negotiation with banks for better conversion exchange rate.
NEXTENDERS INDIA PVT LTD | APR 16 – DEC 16
FINANCE MANAGER
Handheld Botswana and Mauritius Accounting Dealing with State Govt for online bidding, Finance and Accounts day to day Operations- Budgeting & Variances Monthly P&L & Balance Sheet, statutory Compliance, handled finance and accounts of onsite projects at Mauritius & Botswana, Managing debt & equity funding, Audit
 Co-ordinated with accounts manager to strengthen key areas and target financial growth
 Gathered and presented key data like MIS, Investment plan to the Board of Directors
 Handled finance and accounts of onsite project at Mauritius and Botswana, e-procurement projects of the Company
 Prepared foreign remittance documents, and negotiation with banks for better conversion exchange rate, Financial data related to quarterly Board meeting
 Accounting system under VAT, scrutinized Proper classification/ grouping with appropriate chart of accounts suitable for VAT regime and also directing accounts team for preparing the VAT return to Tax Authority
MUSAFIRCOM INDIA PVT LTD (INDIA & IAE ACCOUNTING) | JUN 2015- APR -2016
FINANCE MANAGER
BSP Accounting & Reporting, IATA Compliances Finance and Accounts day to day Operations- Budgeting & Variances Monthly P&L & Balance Sheet, statutory Compliance, handled finance and accounts of UAE based offices Managing debt & equity funding,
 Incorporated the changes in the billing, accounting and other administrative procedures to comply VAT formalities, necessary guidance to accounts team
 Worked TDS and Service Tax liabilities and payment on due date
 Prepared & filed Quarterly E – TDS Returns, Service Tax Challans and Service Tax Returns
 Managed the complete planning and management activities for ensuring completion of various internal audits within the time and cost parameters; preparing audit programs, scope for audit and responsible for delegation of work to subordinates
 Evaluated internal control systems / procedures, preparing audit reports with a view to highlight the shortcomings and implementing necessary recommendations
 Provided recommendations on internal control and process improvement; delivering final presentation before Audit Committee Meetings
 Liasoned with Internal Auditor, Statutory Auditor & IFRS Auditor to complete the same
GITANJALI GEMS LTD (INDIA, UAE ACCOUNTING) |AUG 2011- MAY-2015
ASST MANAGER ACCOUNTS & TAXATION
Responsible for preparation of Balance sheet as per Schedule VI of Companies Act Revaluation of debtors, creditors and bank facilities, Computation of Tax liability of Company, Partnership firms and Directors, ETDS, MIS
 Maintenance of Books of Accounts in Tally 90 ERP & Diamond ERP Package
 Reviewed proper and timely deduction of TDS, Provident Fund & Professional tax & payment of the same within the specified time limit and bank reconciliation of all banks
 Prepared and submitted quarterly E – TDS Returns of Salary, Contract Charges, Job Work, & Consultancy
 Periodic Scrutiny of all ledgers & Finalization of Accounts
 Computation of tax liabilities and filing of annual returns of Individuals, Partnership Firms, Private Limited Companies
 Prepared Details of Block Assessments for Income Tax Dept to be submitted to Central Circle, Mumbai
 Prepared & verified Cash Flow Statements on day to day basis, analysis of the same, submission of the same to the management and monthly Profit & Loss Statements
 Prepared & Submitted Monthly Sales Report, Expenses Reports, MIS, Revaluation of Export Debtors, Import Creditors and Bank Facilities
HARESH P KOTHARI|JUN 2000- AUG-2011
ASST MANAGER ACCOUNTS & TAXATION
 Conducted routine audit of the company's functioning and reporting outcomes to the designated higher authorities.
 Special Assignments - manual preparation, special audit assigned by the clients, from time to time.
 Preparing documentation for audit observations and the conclusions derived.
 Handled entire financial and statutory compliance management functions related to various laws and statues.
 Performed consolidation of subsidiaries and generated Profit & Loss Account, Balance Sheet and Notes to Accounts
 Prepared schedules and details as per accounting policies and ensured timely pay outs of bills
 Coordinated for timely completion of statutory and internal audits in compliance with corporate policy and guidelines
Professionals in the same Accounting / Finance sector as Himanshu Kothari
Professionals from different sectors near Mumbai, Maharashtra
Other users who are called Himanshu
Jobs near Mumbai, Maharashtra
---

Crown HR Services

Navi Mumbai, India

From 2 to 5 year(s) of experience · - ₹ 2,00,000 - 3,00,000 P.A. · Panvel, Navi Mumbai · Roles and Responsibilities · Preventive maintenance of plants & utility equipment's. · Breakdown maintenance of ...

---

Key Tasks · Writing SQL queries and store procedures. · Skills and Competencies · - · Interpersonal Skills: · To establish and maintain relationships within and outside GAC. · - · Ethics & integrity ...

---

Overview · The UX/UI Designer is responsible for designing features for our digital products that meet people's needs. This role will create desirable, usable and compelling experiences, design origin ...