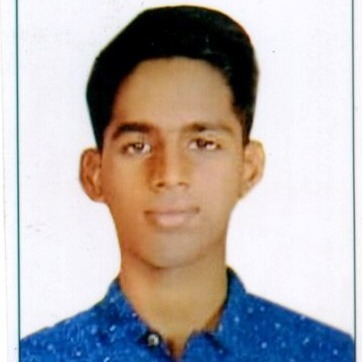 About VIGNESH S:
As a fresher looking for job opportunities in the field of data science, machine learning, and AI, I am deeply passionate about leveraging the power of data to drive meaningful insights and make informed decisions. My interest in this field stems from the endless possibilities it offers in solving complex problems and uncovering hidden patterns within vast amounts of data. I have a strong educational background in data science, including coursework in statistics, programming, and machine learning algorithms. During my academic journey, I actively engaged in projects that involved data analysis, predictive modeling, and developing algorithms. These experiences have equipped me with a solid foundation in data science principles and techniques. I am eager to apply my knowledge and skills to real-world scenarios and contribute to innovative projects that push the boundaries of AI and machine learning. I am a quick learner, detail-oriented, and possess excellent problem-solving abilities. I am excited about the opportunity to work with a dynamic team of professionals and continue to grow in the field of data science and AI.
Experience
As a professional, I have had the opportunity to work on a diverse range of projects that have honed my skills and expertise in various aspects of the field. I have experience in data analysis, where I have utilized statistical techniques and data visualization tools to extract meaningful insights from complex datasets. Additionally, I have worked on machine learning projects, developing and implementing algorithms to solve business problems and optimize processes. My experience also extends to natural language processing, where I have applied advanced techniques to extract information and derive insights from unstructured text data. Throughout my career, I have collaborated with cross-functional teams, effectively communicating complex technical concepts to non-technical stakeholders. I am constantly seeking to expand my knowledge and stay up-to-date with the latest advancements in the field, ensuring that I can bring innovative solutions to the table.
Education
I have completed my Bachelor's degree in Computer Science and Engineering, where I gained a solid foundation in various aspects of computer science and technology. Throughout my academic journey, I consistently demonstrated a strong aptitude for the subject, achieving a commendable CGPA of 7.72. My coursework included a comprehensive range of subjects, including data structures, algorithms, database management systems, and machine learning. This educational background has equipped me with the necessary theoretical knowledge and practical skills to excel in the field of data science and machine learning. I am eager to apply the knowledge and expertise I have gained during my education to real-world projects and contribute to the development of innovative solutions.
Professionals who compete with VIGNESH
Professionals in the same Engineering / Architecture sector as VIGNESH S
Professionals from different sectors near Bengaluru, Bengaluru Urban
Other users who are called VIGNESH
Jobs near Bengaluru, Bengaluru Urban
---

REGex Software Services

Bengaluru, India

Need a trainer for a remote position on Dot Net microservices. · Job Type: · Freelance · Contract length: 1 month · Salary: · ₹150,000.00 - ₹200,000.00 per month · Schedule: · Monday to Friday · Abili ...

---

Teva Pharmaceuticals

Bangalore, India

Who we are · Together, we're on a mission to make good health more affordable and accessible, to help millions around the world enjoy healthier lives. It's a mission that bonds our people across nearl ...

---

Work Location : · Bangalore · - · Work Expertise : - 10 years · - · Job Specs: · Preferred CA with 2+ years of post qualification expertise in international taxation, Postgraduate qualification in t ...