5 Examples of Augmented Reality Online Shopping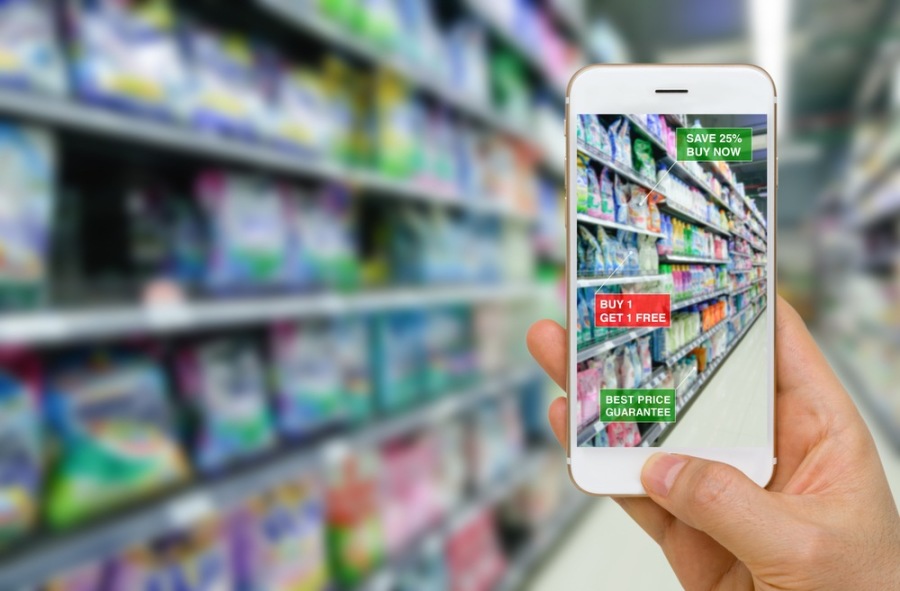 Many people tend to look for products online before final purchase. It's even proved by a research that 8 out of 10 searches for information on products and services online, and around 70% buy it online. And yet, the uncertainty of online purchases remains the same. Shoppers ain't sure about the product they purchase online. One of the reasons why the return rate remains high.
Hence, to reduce cart abandonment rates and enhance customer experience, businesses leverage augmented reality online shopping. Here are the leading examples of augmented reality in retail stores.
1. Amazon ARView
Despite being the king of e-retail, Amazon missed on boosting customer satisfaction. So to ensure that customers could purchase the products conveniently and with surety, Amazon implemented AR with its shopping app. This AR-enabled app is known as "ARView". It allows the user to visualize the product in a 360-degree view in the real environment of their home. Shoppers can choose from thousands of styles and design their space.
2. IKEA Place
The leading furniture manufacturer in the world, IKEA launched an AR app known as "IKEA place". It assists shoppers in making the right purchase decisions.
IKEA Place allows shoppers to see IKEA products in the real-environment of their home. Users can check if the product fits the place, whether colour contrasts with the interior, etc.
The app helps shoppers purchase the right furniture that matches the colours, shape, size, and style of their living space. Moreover, you can also share the snap of the selection on social networking apps like WhatsApp and Instagram. All in all, it gives shoppers 98% accuracy in the buying decision, enhancing customer satisfaction.
3. Gap
Another example of augmented reality online shopping is Gap's AR app, "Dressing Room". It curbs the hassle of finding perfectly fitting clothes. The app allows users to try on the dress virtually via a virtual mirror. Here's how it works:
First, the user enters the measurement of their body in the app. A mannequin appears with the exact size, wearing the same clothes that the user intends to buy. With the help of the mannequin, users can then try and see how a particular style would look on them. They can try and pick the one that best fits their size and taste. The best thing is users can directly purchase it from the app without wasting time and effort.
4. Sephora
While some businesses think that driving customers to physical stores is a must, Sephora believes the opposite. To support its belief, it has delivered exceptional outcomes. 
Sephora understood the customers' pain of visiting physical stores, so it brought stores to customers' mobile phones. Not the one where they can see, read, and purchase. The e-store where they can try before buying, like the actual physical store.
It did it with the help of AR. Using facial recognition tech allows users to try on different shades of lipstick and other beauty products in real-time. They can then compare and share their looks, even make a purchase therein.
5. Converse
The converse is one of the popular shoe brands. It's part of the Nike family and well known for its branded collection. To provide customers with real-time experience, it launched an AR-led app named "Converse Sampler App". It's an amazing concept that allows shoppers to take a snap of the shoe by simply dragging the camera towards their feet and adjusting the angles. They can visualize how the shoe would look on them, helping them decide if they should buy it or not.
Shoppers can also share the snap with their friends and relatives to seek an opinion on their choice.
Final Words
The examples mentioned above are a few examples of augmented reality in retail stores. Explore and share your thoughts in the comment section.


Summary
The leading examples of augmented reality online shopping are Amazon ARView, Sephora, IKEA Place, Gap's Dressing Room, Wayfair App, Converse Sampler App, etc. Learn more.
You may be interested in these jobs
---

Prakash Shrink Pack India

Delhi, India

कार्यालय की मेज, कुर्सियाँ, अलमीरा, खिड़कियाँ, केबिन को साफ सुथरा रखें · कार्यालय के फर्श पर झाडू लगाना · कर्मचारियों द्वारा उपयोग के लिए पानी की बोतलों को भरना · कार्यालय छोड़ने से पहले, जांच करनी कि ...

---

DR ARAVIND 'S ISWARYA IVF

Coimbatore, India

op · ip · icu care · record maintain · Salary: · ₹35,000.00 - ₹50,000.00 per month · Schedule: · Morning shift · COVID-19 considerations: · wear mask · Ability to commute/relocate: · - bharathi nagar. ...

---

Bismi Home Appliances

Malappuram, India

Kerala's popular Home Appliances retail chain Real Bismi is looking to hire Godown keepers in Malappuram. · Benefits: · Cell phone reimbursement · Schedule: · Day shift · Supplemental pay types: · Per ...