1 year ago · 2 min. reading time · ~100 ·
Planning to make your life easier? Don't forget these gadgets!
Advancement in technology has made numerous cool gadgets for our homes that make life easy. These gadgets adorn multiple homes, not just to add to the fanciness quotient but primarily to act as problem solvers. They address everyday problems by offering various solutions and bring down human effort involved in conducting chores. Overall, these gadgets provide efficiency, conserve space and energy in some cases and revamp people's lifestyles.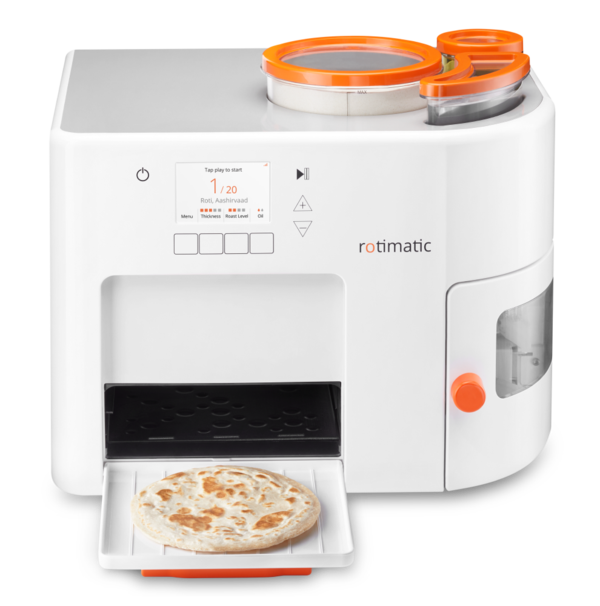 These high tech tools are changing every aspect of your lives from being woken up to getting your dough kneaded to having your home impeccably cleaned – dream it and these gadgets are doing it for you. A dish cleaner, a pizza maker for home, smart kitchen appliances, wireless sensors, a robotic vacuum cleaner and so many more gadgets are here to take the load off you. 
Rotimatic Robotic Roti Maker
If you tired of frozen Indian flat breads and do not trust the ingredients from the restaurant bought rotis, this kitchen appliance is a must have. In most Indian families, everyone wants hot rotis with every meal. The Rotimatic Robotic Roti maker is undoubtedly the best dough kneading machine and also acts as a poori and . The entire process is completely automated from measuring the flour and water, kneading it into a dough ball to flattening & cooking the dough to give you fluffy hot rotis. The best thing about this appliance is the range of multiple flatbreads it gives you from pooris to pizza bases. 
Robot vacuum cleaners
Robot vacuum cleaners make vacuuming and floor cleaning a breeze. This one of a kind appliance is a 3D home cleaning answer to all your dirt related problems. It runs on smart technology that can detect obstacles and navigate around them. Unlike the traditional vacuum cleaner, this is capable of automatically emptying its dust bin. Its intelligent time scheduling feature allows you to schedule a clean-up even if you are not at home. It has different cleaning modes to clean various types of flooring. Say goodbye to your cleaning woes!
Wireless LED light bulbs
These new age smart lighting bulbs can be controlled via a smartphone with the help of an application. You no longer need to fight about who will get up and switch off the wall switches anymore, because the solution is right at your fingertips. Not only can you operate the lights remotely, you can also schedule them to turn off and on from your tablet or phone. These energy saving light bulbs are perfect for both the home and office. 
Digital Smart Multicooker 
You can get rid of your oven, fryer, bread maker, stove, steamer, yogurt maker as this multicooker is a one stop shop for all these kitchen jobs. From soups and entrees to main dishes and desserts, anything can be cooked in this. For people who live in apartments or have small kitchens, this is ideal to save kitchen space. The temperature ranges from anywhere between 40 degrees to 160 degrees Celsius. This multicooker has a unique 3D heating that can be programmed for up to 12 hours, it can reheat food and keep it warm for up to a day. 
Apart from these gadgets there are so many others such as wireless speakers, smart lighting systems and more. Even if you invest in one gadget at a time, you will realise how easy your life is getting and what a worthy investment each gadget is. 
You may be interested in these jobs
Found in: Talent IN+ - 6 days ago

---

Title - Oracle Cloud Technical Consultant · Location - Chennai/Hyderabad/BangaloreRole - FulltimeNotice Period - Max 15 daysYears of Experience - 4+Job Description : · Skills Required: · Data Conversion experienceHCM ExtractsFast formula / Data Conversionknowledge in Fusion HCM C ...

Found in: Talent IN - 2 days ago

---

Responsibilities: You will be responsible to manage & support our Babelway & WinEDI EDI platform as well as some legacy EDI technologies we use. Your natural overview enables you to manage the many processes in this challenging global and complex environment. Your communication ...

Found in: Talent IN+ - 1 day ago

---

Seclore Technology

Mumbai

Product Engineer: · Location: Mumbai / Pune · Experience: 3- 5 yrsAt Seclore, we are all Entrepreneurs, not employees. Ours is a tribe of risk-takers, innovators, fearless problem solvers...We are a passionate team with diverse backgrounds and experiences all driven to solve comp ...