3 years ago · 1 min. reading time · 0 ·
Tips to consider when hiring a web application developer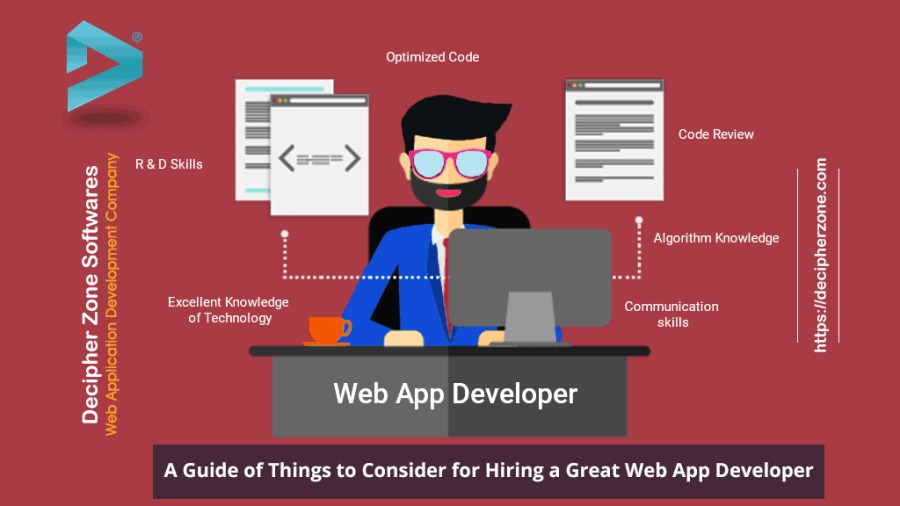 Web Application Development trend is on the rise but it is a tedious task to recruit diversified workforce required for developing a Web Application. The article intends to let you know what to consider for hiring a great Web App developer. Here are 15 things to consider when you are hiring a Web App developer.
1. Research on the type of web developers required
The size of the web development team increases with the complexity and scale of the project. The first task should be to hire a project manager who can map the complexity of your proposed Web Application then study about types of Web application developers and their role in projects. Collaboratively recruit more members with your project manager because the captain should be the one choosing his/her soldiers.
2. Don't Hunt with Ratings Only
With digital marketing on the rise, it is hard to tell whether the ratings are authentic or they are just pumped up, so the top rated one might not be the best one. Have a thorough discussion along with project manager to test the skills that Web App development applicant has.
3. Expensive isn't always the best
The Web App (Web Application) developer who is quoting the most isn't always the best ones. Just take a moment and think if the most expensive is the best ones then why does freelancing platforms exist where people are looking for cheap freelancers from developing countries. Quoted price is not just related to skills it is also related to the location of Web App developer where he/she lives.
4. Communication Skills Matters
Communications skill is the key to develop a successful Web Application project because there will be doubts, there will be modifications, there will be bugs to be fixed so you and your team should be on the same page. Make sure you both speak a common language and can understand what the counterpart is saying regardless of the accent.
Read: Why Web Applications Are Becoming Popular Than Standalone Applications?
5. Geographical Location of Developer Matters
Geographical location of the Web Application developer matters a lot because it is directly associated with the price, he/she is going to quote. Web App developers from developed nations usually quote more whereas web developers from developing nations quote less. Geographical location associate's clients with the global perception of skills a developer have like you might think Russian developers are great but the truth is it all depends on work experience of Web App developer.
You may be interested in these jobs
Found in: Talent IN - 1 week ago

---

Description · As the Senior Specialist, you will be one of the Technical Leader within the Common Use Team which ensure all our customers (Airports, Airlines, and their customers) day-to-day operation run smoothly. · Whether it is a passenger check-in via CUTE or CUSS or Web, or ...

Found in: Expertia - 1 week ago

---

R3 Consultant

Pune

Full-Time

Position: Sr.CSE (Senior Customer Service Executive) · Qualification: H.S.C + 6 months of any experience or more · Graduate Freshers · Age Criteria: 19 to 50 · Job Description · Voice process (Inbound ) · Receive calls from customers to resolve their issues · Reply to customers a ...

Found in: Linkedin IN Premium - 4 days ago

---

Title - Lead Salesforce Developer · Location - Chennai/Bangalore/Hyderabad · Role - Full time · Notice period - 15 days Max · Skills · Salesforce Technical Skills: Must have Lightning experience, LWC (Lightning Web Component), Apex, Triggers, Visual Force, Lightning Aura componen ...