Diabetes mellitus
Diabetes mellitus
Diabetes mellitus
REVIEW ARTICLE 
Overview: DIABETES MELLITUS 
MANSURI SOHAIL 
Medical- College KARAGANDA,KAZAKHSTAN.
ABSTRACT- As we know that DM is the disease of beta-cells of pancreas: In which increase level of blood sugar occur.  Insulin is a hormone that control blood glucose. Hyperglycemia & Hypoglycemia are two terms which is related to DM; Hyperglycemia known as high blood sugar & Hypoglycemia known as low blood sugar.
The degree of hyperglycemia brought on by an absolute or relative lack of insulin activity serves as a practical definition for diabetes mellitus (DM), a syndrome of disordered energy metabolism. 
Age specific diabetes mortality rates increased by 3% between 2000 and 2019.An estimated 2 million people died in 2019 from DM related renal disease.  In contrast, between 2000 and 2019, there was a 22% global decline in the likelihood of dying from any of the four major non-communicable diseases (cancer, chronic respiratory diseases, diabetes, or cardiovascular diseases) between the ages of 30 and 70.[1]
INTRODUCTION-  DM ; Is a group of metabolic diseases characterized by increased levels of glucose in the blood (hyperglycemia) resulting from defects in insulin secretion, insulin action, or both• related to:- An endocrine disorder causes Abnormal insulin production- Impaired insulin utilization- Both abnormal production and impaired utilization.[2]
TYPES –
The bulk of cases of diabetes can be divided into two main Etiogenic groups (discussed in greater detail below). One type of diabetes, Type 1, has an utter lack of insulin secretion as its etiology. Serological evidence of an autoimmune pathologic process occurring in the pancreatic islets and genetic markers are frequently used to identify people who are more likely to acquire this kind of diabetes. Type 2 diabetes, which is significantly more common, is caused by both resistance to insulin action and an insufficient compensatory insulin Secretory response. In the latter type, a degree of hyperglycemia sufficient to result in pathologic and functional alterations in numerous target tissues, but without clinical symptoms, may exist for a significant amount of time prior to diabetes.[3] 
Gestational Diabetes Gestational diabetes is a type of diabetes which is occur at the time of pregnancy. It occurs when the body cannot produce enough insulin to cope with the increased need for insulin during pregnancy, which causes high blood sugar. Gestational diabetes usually occurs in the second or third trimester of pregnancy and can affect any woman, even if she had a healthy previous pregnancy. Women who are overweight, have a family history, or have gestational diabetes are more likely to develop the disease.
ETIOLOGY-
Most kinds of diabetes lack a known precise cause. In the Dm patient; Sugar rises in the bloodstream in every situation. This is as a result of inadequate insulin production by the pancreas. Diabetes of either type can result from a mix of hereditary and environmental causes.[4]
EPEDIOMOLOGY-
According to the World Diabetes Federation's most recent estimates for 2019, there are currently an estimated 537 million adults living with diabetes worldwide. [1] With nearly 2 million fatalities annually directly attributable to diabetes and kidney disease brought on by diabetes, diabetes is the ninth
greatest cause of mortality worldwide in 2020. [2] Diet and exercise are the main causes of type 2 diabetes, and they can also increase BMI, poor nutrition, hypertension, alcohol use, and smoking. Genetics can also play a role. [3] The prevalence of diabetes is rising quickly; according to prior projections for 2019, there are 463 million individuals worldwide who have the disease,[4] with prevalence peaked at the age of 55 and equal distributions between the sexes. By 2030,[1] the population is anticipated to reach 643 million, or 7079 people.[5].
COMPLICATIONS – As we know that; Microvascular complications (retinopathy, nephropathy, and neuropathy) are specific to diabetes, and the risk of these complications (especially Retinopathy) is used to help define diabetes diagnostic criteria. The risk of these complications is associated with the duration of diabetes and the degree of hyperglycemia.
However, due to the delay in diagnosis, these problems may arise during diagnosis;  The combination of hypertension or Dyslipidimia may increase their risk. 
Retinopathy - Diabetic retinopathy is a complication of diabetes that affects the blood vessels in the retina, the tissue at the back of the eye. At the same time, high blood sugar can weaken and damage blood vessels in the retina, causing inflammation and tissue damage. Sometimes new blood vessels can grow in the retina, causing damage and loss of vision.
Diabetic retinopathy can range in severity from mild to severe and can affect one or both eyes. 
Neuropathy - Diabetic neuropathy may be a sort of nerve harm that can happen as a complication of diabetes. Tall blood glucose levels over time can cause harm to the little blood vessels that supply oxygen and supplements to the nerves, driving to nerve damage.
Diabetic neuropathy can influence any portion of the body, but it most commonly influences the nerves within the feet and legs. Indications may incorporate shivering, deadness, burning, or torment within the influenced region. In a few cases, there may be a misfortune of sensation, making it troublesome to feel changes in temperature or weight.
Nephropathy -  Diabetes mellitus is the leading cause of kidney failure in countries, and the Asia-Pacific region has a particularly high burden of kidney disease. 46 Evidence in the earliest stages is that urinary albumin excretion (microalbuminuria) is required, followed by increased serum Creatinine, and finally renal failure. Dialysis and transfusion. 
In parallel with the progressive increase in kidney function, there is an increased risk of heart disease, which is evident even at microalbuminuric levels. Therefore, it is important to consider microalbuminuria and various stages of kidney disease as risk factors for CVD with renal failure.
DIAGNOSIS - Diabetes mellitus is a chronic disease caused by the level of glucose (glucose) in the blood. Diabetes is usually diagnosed with blood tests and symptoms.
The most common blood test used to diagnose diabetes is the rapid blood glucose test (FBS). This test measures your blood sugar after fasting for at least 8 hours. If your FPG level is 126 mg/dL or higher on two separate occasions, you may be diagnosed with diabetes.
Another test used to diagnose diabetes is the oral glucose tolerance test (OGTT). This test involves having a drink and measuring your blood sugar two hours later. Diabetes can be diagnosed if your blood sugar is 200 mg/dL or higher.
Additionally, the Hemoglobin-A1c (HbA1c) test can be used to diagnose diabetes. This test measures your average blood sugar over the past 2-3 months.
It is important to remember that the diagnosis of diabetes should be made by a doctor and treatment should be personalized to your specific needs and healthy eating history.[6]
TREATMENT- Depending on the type of diabetes you have, blood glucose monitoring, insulin, and oral medications may be part of your treatment plan. A healthy diet, weight control and regular exercise are also important in diabetes management.
Treatment of all types of diabetes
An important part of diabetes management and overall health is weight control through healthy eating and exercise:
Eat well. Your diabetic foods are a healthy way to help you manage your blood sugar. You should focus your diet on more fruits, vegetables, lean protein and whole grains. These foods are high in nutrients and fiber and low in fat and calories. Patient of DM also reduce intake of saturated fat, refined carbohydrates and sweets in his/her Diet. 
In fact, it is the best meal plan for the whole family. It's okay to have dessert once in a while. They should be included as part of your meal plan. 
It can be difficult to figure out what to eat and how much to eat. A registered dietitian can help you create a meal plan that fits your health goals, food preferences and lifestyle.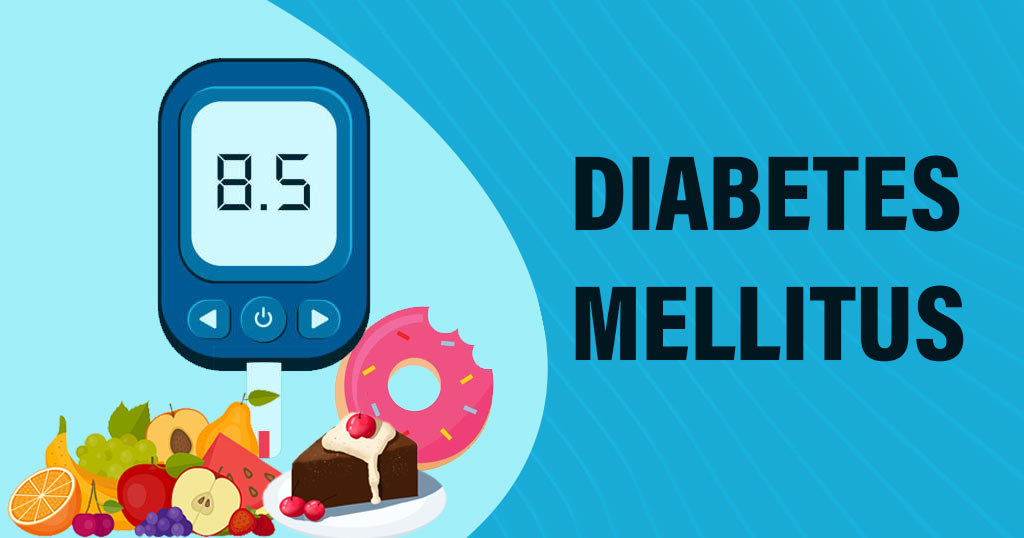 FOR TYPE DM 1 - 
Insulin therapy: Insulin therapy is the mainstay of T1DM therapy. It usually involves subcutaneous insulin injections several times a day. There are different types of insulin, including fast-acting, short-acting, intermediate-acting and long-acting. Insulin therapy is designed to follow the insulin secretion pattern of the pancreas to keep blood sugar in the target range.
Continuous Glucose Monitoring (CGM): CGM is a device that continuously measures glucose in liquid medium. It provides real-time glucose information that can help T1DM patients make informed decisions about insulin use and diet.
Carbohydrate Count– Carbs-counting is a method used to calculate insulin doses based on the amount of carbohydrates consumed. This approach can help people with T1DM manage their blood sugar well.
Diet and exercise: A healthy diet and regular exercise can help people with type 1 diabetes control their blood sugar. Eating a sugar-free, high-fiber diet can help control blood sugar. Exercise will help improve insulin sensitivity and lower blood sugar.
Pancreas transplant: In some cases, people with T1DM may be candidates for a pancreas transplant. This involves surgically transplanting a healthy pancreas into the body to replace the damaged one.
However, it is a complex process that carries risks and is not suitable for everyone.
It is important to remember that T1DM is a chronic condition that requires lifelong treatment. Treatment options vary from person to person, and patients with type 1 diabetes should work closely with their healthcare team to develop a personalized treatment plan.
FOR TYPE DM 2 - Here are some treatments for type 2 diabetes:
Lifestyle changes: This includes healthy eating, regular exercise, and weight control. A nutritionist or nutritionist can help you create a meal plan that fits your needs, and a physical therapist can help you create an exercise program that is safe and good for you.
Medications: There are many medications used to treat type 2 diabetes, including Metformin, Sulfonylureas, DPP-4 inhibitors, GLP-1 receptor agonists, SGLT2 inhibitors, and insulin. Your doctor will decide which medicine is right for you based on your individual needs.
Monitoring regular monitoring of blood sugar is important for the management of type 2 diabetes. This can be achieved through self-monitoring of blood glucose (SMBG), continuous glucose monitoring (CGM), or laboratory testing.
Education: It is important to know your condition and how to manage them, including the symptoms of hypoglycemia (low blood sugar) and hyperglycemia (high blood sugar). The Diabetes Self-Management Education and Support (DSMES) program can provide you with the knowledge and skills you need to successfully manage your diabetes.
CONCLUSIONS - Diabetes mellitus (DM) is recognized as a major health problem and is expected to become a global epidemic. The number of people with diabetes is increasing in developing countries; and complications such as diabetic retinopathy will increase. Retinopathy is a disease that can cause vision loss; It is an important public health problem worldwide. Appropriate management of risk factors can prevent and reduce the burden of these diseases and improve overall health. 
Diabetes is a very difficult disease. Easy to diagnose, difficult to treat. Diabetes has a major impact on tissues throughout the body, including the mouth. Studies have shown that uncontrolled diabetes increases the risk of Periodontitis. 
Changes in host defense and tissue homeostasis appear to play an important role.
Advances in the medical treatment of DM require greater awareness among physicians of the various treatments used by patients with diabetes.
Knowledge of the various medications, monitoring devices, and devices used by diabetic patients can provide timely and effective care while reducing the risk of complications.
Reference - 
American Diabetes Association (ADA): The ADA is a reputable source for information on diabetes. Their website provides comprehensive resources, guidelines, and research related to diabetes prevention, management, and support.[1]
World Health Organization (WHO): The WHO provides global information on diabetes, including statistics, publications, and initiatives aimed at prevention and control. Their website offers valuable resources for understanding diabetes on a global scale.[2]
National Institute of Diabetes and Digestive and Kidney Diseases (NIDDK): The NIDDK, part of the U.S. National Institutes of Health (NIH), offers comprehensive information on diabetes, including research updates, treatment options, and educational resources for both healthcare professionals and individuals with diabetes.[3]
Mayo Clinic: Mayo Clinic's website provides reliable information on diabetes, including symptoms, causes, risk factors, and treatment options. They offer a user-friendly interface with accessible content for both patients and healthcare providers.[4]
Diabetes UK: Diabetes UK is a leading charity organization in the United Kingdom that provides support, resources, and information on diabetes. Their website offers information on living with diabetes, research updates, and guidance for managing the condition.[5]
Centers for Disease Control and Prevention (CDC): The CDC offers a dedicated section on diabetes, providing valuable information on prevention, management, and resources for individuals, healthcare professionals, and public health initiatives.[6]
Health
You may be interested in these jobs
---

Airtel India

Sonitpur, India

**Key Deliverables · Strengthen the distribution and sales network by increasing the SIM & Data Selling Outlets to the maximum possible extent in the assigned territory. Ensure existing customers are ...

---

Hollister Incorporated

Gurugram, India

Tax Specialist · The tax analyst will execute core tax compliance processes to support the US Federal income tax return, transfer pricing policies and sales and use filings. · Income tax compliance – ...

---

the pine crest school gurugram

Gurgaon, India

B.ed is compulsory · Good knowledge · Good skills · Salary: · ₹20,000.00 - ₹25,000.00 per month · Schedule: · Day shift · Ability to commute/relocate: · Gurgaon, Haryana: Reliably commute or planning ...