Substance Addiction
MANSURI SOHAIL 
Keywords – SUBSTANCES,HARMFUL USE,ETIOLOGY,TREATMENT. 
 
Abstract- This is a modern Era where values and rituals of our ancestors of living life in a simple way more than show off  is decreasing day by day. This Era has become fully techno world where everyone is busy in their own life. The main motto of life has become  to earn more and more money to make show off .They don't have values , ethics and more specifically they lack emotions.  And sometimes they feel so alone and become irritatable. And to get rid of this and for their mental peace they start taking alcohol, they start smoking even sometimes they start taking nicotine drugs, marijuana. They consume these things for their pleasure but they themselves don't understand when those pleasure things have changed into their addiction. So; We consider addiction as-A disease that affects a person's brain and behavior and leads to an inability to control the use of a legal or illegal drug or medicine. Substances For example alcohol, marijuana and nicotine also are considered drugs and they have harmful effect on humans body. 
THE ARTICLE AIM IS ACHIEVE SOBERITY AND A POSITIVE ALCOHAL FREE SOCIAL LIFE AND CREATE AWARENESS ABOUT HARMS OF BAD SUBSTANCE ADDICTION.
INTRODUCTION; Addiction is a serious problem caused by the use of drugs or alcohol, despite its negative effects on people's health, relationships and life. Addiction is considered a mental disorder because it affects the structure and function of the brain, causing changes in behavior, cognition, and emotions.
The causes of addiction are many and include genetic, environmental and psychological factors. People with a history of addiction, trauma, mental illness, and social stress are at higher risk for addiction. Long-term drug or alcohol use changes the reward system in the brain, leading to more drug use and making it harder for a person to quit smoking on their own. 
SUBSTANCES; 
ALCOHAL
Alcohol addiction, also known as alcoholism, is a specific type of substance addiction that involves the compulsive use of alcohol despite its negative consequences. It is a chronic and progressive disease that can affect people of all ages, genders, and backgrounds.
The causes of alcohol addiction are multifactorial and include genetic, environmental, and psychological factors. Individuals with a family history of alcoholism, exposure to trauma or abuse, and mental health disorders are at a higher risk of developing alcohol addiction.
The other addictive substance which has become famous among young generation is tobacco smoking.
Prolonged and excessive alcohol use can alter the brain's reward system, leading to the reinforcement of drinking behavior and making it difficult for individuals to quit on their own. Alcohol addiction can have severe physical and psychological effects on the body. Prolonged alcohol use can lead to liver damage, high blood pressure, heart disease, and even cancer. Mental health disorders such as depression, anxiety, and cognitive impairments are commonly associated with alcohol addiction.
TOBACCO
• Most common substance used in India
• Beedi most common followed by cigarettes
• Active Ingredient: Nicotine
- Stimulant
• Cardiovascular disorders
-Nicotine
-CO
Withdrawal symptoms;  •Within 2 hours.  •Peak in 24-48 hours.
Clinical features
Irritability.
-Poor concentration.
Anxiety.
Restlessness.
-Bradycardia.
Drowsiness but paradoxical insomnia.
Increased appetite, wt. gain.
-Depression.
COCAINE
Erythroxylum coca
*Term by Sigmund Freud Was prepared as a Local Anesthetist
*Fast Na+ channel blocking properties.
Used in ENT surgery.
Blocks dopamine and norepinephrine receptors.
° Vasoconstriction strong: HTN/MI
° Nasal septal perforation
° Seizures
° Jet black pigmentation of tongue
* Routes of administration
° Snorting
° Freebasing
° Intravenous
° Subcutaneous

* Intoxication
Euphoria
Sympathetic symptoms
Tachycardia
Palpitations
Hypertension o Sweating
Mydriasis
Dependence- When consumption of substance takes much more precedence over all other activities of life.
Criteria of dependence:-
- Tolerance: increasing amount of substance is required for desired effect .
- Withdrawal symptoms 
- Craving: strong urge or inability to control substance taking behavior. 
- Progressive neglect of alternative ways of pleasure. 
-Continued use despite clear harmful consequences.
- Progressive neglect
According to ICD 10 if 3/ 6 of above symptoms present is dependence.

Harmful use 
Pattern of use causing damage to 
-Physical health damage
-Mental health damage
- Behavior leading to harm to health of others.
-Intoxication- symptoms that develop after consumption of substance.
Etiology of bio-psychological dependence
Brain reward pathway-  dopaminergic neurons from ventral terminal area to nucleus accumbens.
Neurotransmitters-  opioid, catecholamines( dopamine) GABA.
Genetic factors.
Reinforcement- positive emotions and relief from negative emotions.
Psychological factor- pleasure /euphoria
Social factors- peer pressure, easy availability, social acceptance. 
Personality type.
Alcoholic blackouts - 
amnesia 
At the time behavior appears to be goal directed
No confusion seen
Next day patient don't remember anything. 
Alcohol induced (AI) disorders- AI PSYCHOTIC DISORDER
AI SLEEP DISORDER 
AI ANXIETY DISORDER 
AI NEUROCIGNITIVE DISORDER LIKE WERNICKE'S  ENCEPHALOPATHY.
               Clinical features- 
Global confusion. 
Opthalmoplegia.
Ataxia.
Treatment- Treatment for addiction involves a combination of pharmacological and behavioral interventions. Medications such as methadone, buprenorphine, and naltrexone are used to manage withdrawal symptoms and cravings. Behavioral therapies such as cognitive-behavioral therapy, motivational interviewing, and contingency management are used to address the underlying psychological issues associated with addiction.
Recovery from addiction is a long-term process that requires commitment, support, and a change in lifestyle.
High dose of Parentral thiamine. Though these all substances were made for some use like alcohol if given in limited amount act as a cough reliever. And red wine is completely full of sirtuin protein. A new research  confirms that the human sirtuin protein known as SIRT1, which has been shown to combat age-related diseases in numerous animals, can be directly activated by resveratrol—a natural compound found in the skin of grapes used to make red wine.
But people beacuse of few minutes pleasure misuse these compounds which in turn makes them really harmful for the body and its organ.
Conclusion- Too much of anything is always harmful. In conclusion, drug addiction is a complex disease that affects millions of people worldwide. It is important to understand the basics and effects of addiction and seek help when needed. With treatment and support, drug recovery is possible and people can lead healthy and fulfilling lives.
 
Reference:- 
Zou Z, Wang H, d'Oleire Uquillas F, Wang X, Ding J, Chen H. Definition of Substance and Non-substance Addiction. Adv Exp Med Biol. 2017;1010:21-41. doi: 10.1007/978-981-10-5562-1_2. PMID: 29098666.
Camí J, Farré M. Drug addiction. N Engl J Med. 2003 Sep 4;349(10):975-86. doi: 10.1056/NEJMra023160. PMID: 12954747.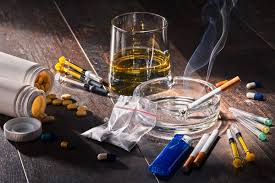 Education
You may be interested in these jobs
---

Innovative Incentives Rewards Pvt. Ltd

Coimbatore, India

As a Tele caller, you are responsible to boost our sales by reaching out to the existing customers, resolving customer queries. · _Requirements : · -_ · - _High School Diploma or more_ · - _Work exper ...

---

UDYOG HR SOLUTIONS (OPC) PVT. LTD.

Faridabad, India

Responsibilities: · Teaching and Curriculum Development: · Design and deliver high-quality lectures, labs, and seminars in the respective field. Develop and update course materials, syllabi, and teach ...

---

timesascent

Chhattisgarh,Chhattisgarh (Anywhere), India

Full time

: · Physics, Chemistry, Biology, Computer Science, · Mathematics, Accountancy, Economics & English For all positions minimum of three years teaching experience in CBSE1ICSE schools is essential and p ...