3 years ago · 4 min. reading time · ~10 ·
Top 10 Technology Trends Shaping Future Of Travelling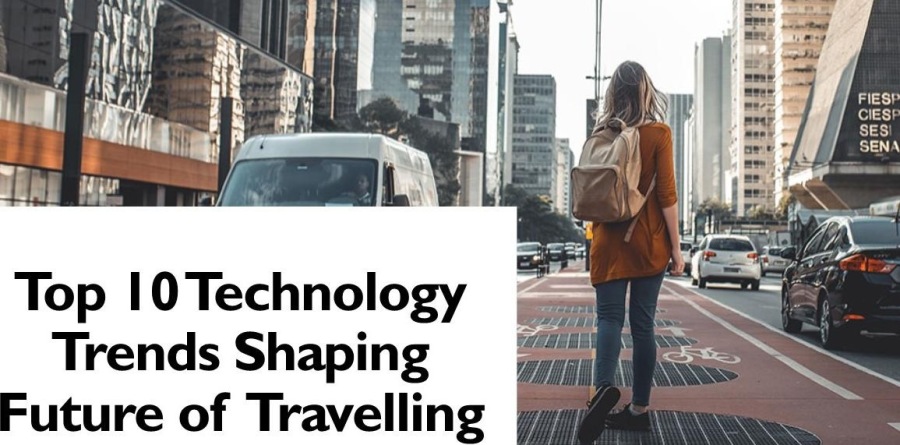 Travelling has been a booming business ever sine the birth of our society. It is even growing further as most of the jobs have become sedentary and people are craving to explore the world. Technology is being used to enhance the travel experience Just like every business following technology trend are shaping future of travelling with leaping technological advancements.
AI driven rides
The first step to travel is to get a ride to reach your destination and it is going to change forever soon as companies like Zoox, Waymo, Virgin are working to make sure that all the rides are AI driven so that customers have avail 24 hours service without any potential security threat. The AI driven ride is a technology trend will not only protect you from accidents but also the threats of molestation, physical attack, robbery that your human driven can attempt.
Smart Assistants
Smart Assistants will work as your guide to improve your travel experience and to resolve queries. Smart Assistants are AI driven bots that being trained by big tech giants Google, Apple, Microsoft, Samsung to small software companies. Technology trends of Web applications, Smart assistants, IOT and handheld devices integration is enforcing the habit of do it yourself for better travel experience at cheaper price tag.
Biometrics based passports
Cloud technology is revolutionizing the world technology trends, governments are combining identity cards, passports etcetera with citizen's biometrics and storing them on cloud. These documents can then be used by officials for citizen's details verification with biometrics which will reduce the hassle of paperwork and carrying physical identity proofs. Australia has been issuing Biometric passports from 2005 whereas developing countries like India is on the same path with it's UID integration to services.
Web Applications for Security
The automated and manual travel systems are vulnerable to accidents which needed an automated system that get triggered with events that can cause a catastrophe. Managing authorities are working to integrate the backup and response actions in to web applications that will be integrated in to transportation systems. If brakes fail of an AI driven car ambulance, police, public will be alerted and all rides will be redirected on another route. Web applications integration for security is a technology trend that will be an inevitable part of future that will grow its roots in fire, disaster management and public transportation systems.
Web apps for load balancing
When load is increased on any server then requests are redirected to backup servers, on the same model real world operations will be managed through web apps. South Korea is already using this with city wide CCTV network and AI integrated web apps to manage traffic in cities. Now public transportation systems, factories, power plants will be integrated in to web apps to balance the load and distribute products. This technology trend will be soon used in small scale solar power plants and domestic solar power systems will be connected through meters and web apps to a centralized system to provide 24-hour power access that can also handle excessive power demand even greater than the size of in house solar power generation system. The power generation systems will have two meters, one will measure incoming electricity and another will measure outgoing electricity to centralized system. The web app on centralized system will reroute the excessive power to the nearest grid where it is required, on the end of billing cycle web app will generate the bill on the basis of reading on both meters.
Blockchain Mobile applications integration
Mobile application integration is technology trend that is going on for couple of years, as of today banking, entertainment, transportation services, project management tools and everything else is integrated with mobile applications. The integration level is so immense that it poses the threat of getting hand if one loses control over his/her mobile trend which brought us to the shores of another technology trend blockchain. Blockchain integration to mobile applications will provide a level of security that will be next to impossible for any hacker to breach which allows travellers to use online payments without a second thought of getting bluffed.
IOT
All of us are aware about Google voice assistant, Siri, Alexa integrated devices which are connected to internet and can be controlled with voice commands. Whether you want to buy groceries, staples, listen music, robots, switch on/off lights or any electronic appliance Alexa can do that all for you. Now there are switches which gets integrated with Alexa to provide smart home experience. IOT technology trend will further integrate with AI to lead us in to an era where our fridge will know what we need and it will order it online autonomously. IOT integration in to transportation and hospitality systems will get things done from ticket verification, RFID embedded hotel room keys, hospitality services to passport verification making operations autonomous.
Virtual Reality
VR headsets a technology trend that emerged in 2015 is revolutionizing the visual experience. The 360-degree camera recordings places viewer in epicentre of virtual world shot in videos and provide viewers an exceptionally immersive experience that 3-D videos failed to offer. Now games, videos and software industry are working to provide support for Virtual reality. The travel industry is already luring customers with virtual reality tours to showcase a glimpse of travelling experience with them.
Mixed Reality
Microsoft's HoloLens project has embedded computing with Virtual reality to make it possible for us to make 3D models of cars, mechanical parts and prototypes without the need of 3D printing or manufacturing the model. In 2018 Microsoft launched Visual Studio with the Windows 10 SDK. Iron man's Jarvis is not far ahead now as we have the hands-on technology trends that are AI, Voice Assistants, mixed reality which makes it a doable task that will be done with in a decade.
Robots
Robots will carry luggage on airports, work as janitors and even as our butler in hotels sooner than one can expect. Robots are already serving meals in nation widespread Alibaba's Hamas stores in China and a robot butler is coming to the Norfolk Waterside Marriott. Robots will be the biggest technology trend because Japan, US and many other developed nations are facing a low birth rate with big chunk of working labour that is on the verge of retirement, therefore robots are desperately needed to fill out those vacancies.
Every year there's new inventions that emerge as technology trends in following years which is directed to the vision of singularity where systems will become autonomous as the computers will be smarter than humans in logical thinking as well as cognitive thinking.
"
You may be interested in these jobs
Found in: Talent IN± - 1 day ago

---

Salary: 1100000 INR - 1500000 INRWhat You'll Do:Be an internal member of the team that builds site features, automation, admin tools and integrates APIs. · Build -out our web architecture allowing new feature modules to be sent to production while having strategic foresight of ho ...

Found in: Recruit.net IN Premium - 2 days ago

---

Company Description · We will give you the flexibility you need to do your best work with hybrid work options. Whether youre working from an AECOM office, remote location or at a client site, you will be working in a dynamic environment where your integrity, entrepreneurial spiri ...

Found in: Recruit.net IN Premium - 3 days ago

---

unitedhealthgroup

Hyderabad

Combine two of the fastest-growing fields on the planet with a culture of performance, collaboration and opportunity and this is what you get. Leading edge technology in an industry that's improving the lives of millions. Here, innovation isn't about another gadget, it's about ma ...