2 years ago · 2 min. reading time · ~100 ·
What is scope creep in project management?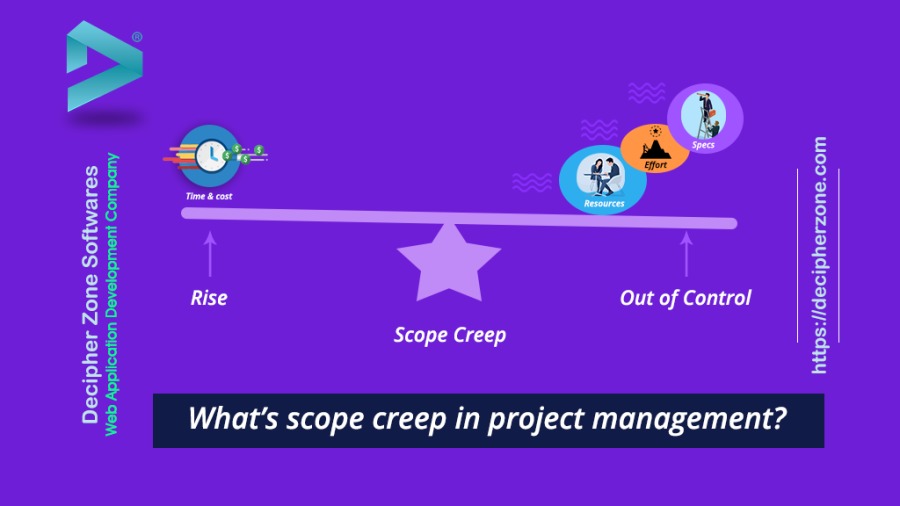 Scope creep in project management is a scenario where project scope derails from its intended track and consequences in project delays, cost overrun, decreased satisfaction, and failure in business value realization. In this blog, we will be discussing multiple factors that contribute to scope creep in our experiences and the steps that can be used to prevent ourselves from scope creep.
As we know no business can put in money for a long time in developing a product without reaping its benefits hence, we will have to draw deadlines for product development and business benefits realization from it. Let's first understand the difference between a product and a project. The product is an overall solution that helps us in managing and performing operations for business whereas a project is a subpart of this product that focuses on increasing efficiency to meet the values in business benefits realization roadmap of the product. When we try to build a big product, we have a broader vision that keeps on getting bigger as the business and its competitors evolve hence the more chances to go off-track from our intended path that's why the products are divided into smaller projects.
Scope creep is developing additional features, functions, and requirements of a project or product which is not authorized and approved. Considering the factors i.e. cost, time, scope, and quality of the project management triangle also known as the iron triangle, we have a limit in the scope of a project with respect to tight deadlines and budget to reap the business benefits.
How does scope creep occur in projects?
Scope creep occurs with less involvement of sponsors and stakeholders in different stages of project development as they intend to manage their busy schedules. The less involvement imposes the responsibility of understanding the project scope on development teams and they might misunderstand the requirements as the gap is left out by skipping meetings. If we try to summarise what we have experienced so is that the following factors contribute to building scope creep:
8 factors contributing to scope creep
1. Vague Scope Definition
Project scope has different definitions from perspectives of sponsors, stakeholders, and development teams. A sponsor explains his or her business needs in a non-technical aspect where they think about developing a competitive advantage over its peers by reducing operational efficiency and empowering customer delight. Business analysts are responsible for eliciting these requirements and find the gaps even before the development starts to curb the project charter from derailing the desired track. Since sponsors have been experiencing their business for years so they often approach development partners with a document that is often considered enough by development teams to build the project but this approach is not right. Sponsors neither have the process-driven gap analysis approach nor do they have the technical depths insight.
Read: Top 12 Web Designing Trends in 2020
2. Poor Change Control
Change control is a process in Informational technology to ensure that changes proposed to a system, product, or project are proposed in a controlled and contributed manner. Change control can be described as a set of six steps:
Plan / Scope
Assess / Analyse
Review / Approval
Build / Test
Implement
Close
Read the full article: 
https://www.decipherzone.com/blog-detail/what-is-scope-creep
You may be interested in these jobs
Found in: Adzuna IN Premium - 1 day ago

---

Required Skills: · Experience with PostgreSQL (Aurora PostgreSQL preferred) · Well versed in developing views/stored procedures on PostgreSQL · Expertise with PL/pgSQL · Extensive experience with PostgreSQL deployment and version control · Solid experience designing, implementing ...

Found in: Talent IN - 3 days ago

---

Wells Fargo

Hyderabad

Full time

Role: Senior Information Security Engineering - Cyber Threat Intelligence · About Wells Fargo India · enables global talent capabilities for Wells Fargo Bank NA., by supporting business lines and staff functions across Technology, Operations, Risk, Audit, Process Excellence, Auto ...

Found in: Talent IN+ - 1 week ago

---

SUPRO INFO SOLUTIONS PRIVATE LIMITED

Jaipur

Manage a team of 10-12 front line employees, support and guide the team members in achieving their monthly/quarterly/yearly targets · Align team members to people and business objectives of the Company · Engage in joint field work to support assigned team and advisors · Handhold ...