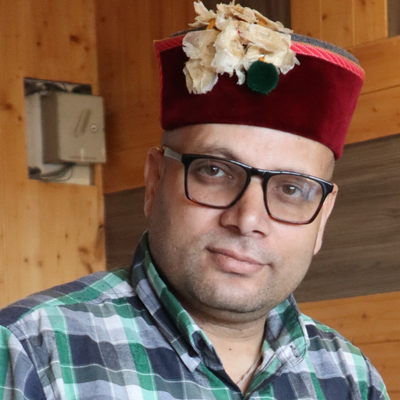 Services provided $50

/ hour
Customer Service / Support (1)
Admin - Social Media Managers

Tourism / Travel / Hospitality (1)
Personal Fashion Stylist

About Iqbal Singh:
With over 20 years of diverse experience in media business development, education, print and electronic media, branding, PR, case management, writing, and film production, I am a results-driven media specialist. I have a proven track record in scripting, directing, filming, and editing high-quality videos. My expertise extends to developing impactful social media marketing campaigns on platforms such as YouTube, Twitter, and Facebook.
I excel in creating comprehensive advertising plans for broadcast and radio, leveraging strong consulting skills to deliver effective messages. Collaboration with creative services and production teams is a strength of mine, particularly in media planning, PR campaigns, and strategic implementation. In addition to my vast experience, I possess skills in IT,DTP, film production, & excellent oral/written communication. I am proficient in computer networking, troubleshooting, Windows environments, applications, and hardware.
With a proactive and integrity-driven approach, I bring strong analytical, planning, management, and motivational abilities to every project. Throughout my career, I have consistently contributed to the growth of media businesses.
Currently, I am employed as a Consultant-Digitization & Mass Media with the State Project Implementing unit, Govt. of Himachal Pradesh. I have also worked with various organizations such as Shri Ram Entertainment House, Revel Films Pvt. Ltd., Lodi Films Pvt. Ltd., Bokade Films Pvt. Ltd., CRAFT | Center for Research in Art of Film & TV, Madhu Productions, MSPICM, and Swanling Productions.
Experience
Throughout my career, I have gained extensive experience in various facets of media, advertising, and technology. My previous roles have provided me with a deep understanding of effective advertising strategies, media planning, and coordination. I have successfully collaborated with creative teams to create high-quality promotional videos, managed social media marketing campaigns, and executed print, web, and radio promotions.
In addition to my proficiency in media and advertising, I possess strong skills in website development and content management systems. I have leveraged my expertise to develop web portals that engage and captivate audiences while ensuring seamless navigation and user experience. Through my comprehensive knowledge of digital media, I have consistently achieved higher rankings for websites, driving organic traffic and increasing online visibility.
 
My experience in documentary film production and development has honed my storytelling abilities and visual communication skills. I have successfully managed the entire production process, from concept development to post-production, resulting in impactful documentaries that have garnered positive reception and widespread recognition.

With a keen eye for design and an in-depth understanding of graphic design principles, I have created visually compelling print media materials that effectively convey messages and capture audience attention. Furthermore, my expertise in information technologies enables me to swiftly adapt to new tools and technologies, ensuring that I am up-to-date with the latest industry trends and advancements.

Moreover, I bring a proven track record of contributing to socio-economic reforms through my involvement in implementing training-of-trainers programs and facilitating mass media coverage. My strong organizational and leadership skills, coupled with my ability to drive successful public relations and event promotions, have consistently resulted in impactful outcomes.

I am confident that my diverse background and comprehensive skill set make me an ideal candidate for the Media Expert position at your organization. I am excited about the opportunity to contribute my expertise and drive innovation within your organization. 
Education
MA Mass Communication Guru Jambheshwar University at Hisar | July 2011 - June 2012
Media Writing, Media Production, Media Management, Media Laws, Media Research, Production Portfolio
Post Graduate in Journalism & Mass Communication IGNOU at New Delhi | July 2010 - June 2011
Journalism, media studies, mass communication, information tech., media writing
Post Graduate in Translation (English-Hindi-English) Bharitya Vidya Bhawan at New Delhi | July 2006 - June 2007
Theoretical context of Translation, The social context of Translation, Structural context of Translation, Practical reference of Translation, Project Report
PG Diploma in Radio & TV Production Bharitya Vidya Bhawan at New Delhi | July 2005 - June 2006
Cultural heritage of INDIA, computer Application, Photography & Dark Room Tech. Photography & Dark Room Tech. TV Direction & Media management, Film Appreciation & Direction Theories, Script Writing for Fiction & Non-Fiction, Project, & Awards
Post Graduate Diploma in Marketing & Advertising Bharitya Vidya Bhawan at Mumbai | July 2004 - July 2005
Marketing management, Advt. Media Creative Advt. Art & Production, marketing, Research, Cultural heritage of INDIA
Advance Diploma in Information Technologies IGNOU at New Delhi | July 2001 - June 2002
C, C++, Java, RDBMS, Computer, Security Networking, Linux, E-Commerce, SQL, DTP, E   Commerce & Web Development
PG Diploma in Rail Transport & Management Institute of Rail Transport INDIA at New Delhi | July 2001 - June 2002
Transport Economics, Management Concepts & Personnel Management, Material Management & Accounting & Financial Management, Commercial Management & Operating Management, Civil Engineering & Signal & Tele-Communication Engineering, Mechanical Engineering & Electrical Engineering
B. Com HP University at Shimla | July 1997 - June 2000
Hindi, English, Business Law, Financial Account, Auditing, Business Statistics, Costing, Income Tax, Eco, Management Accounting, Company Law
10+2 HPBSE at Dharmshala | April 1996 - March 1997
English, Economic, Accountancy, Business Study
10th HPBSE at Dharmshala | April 1994 - March 1995
Professionals who compete with Iqbal
Professionals offering similar services to those of Iqbal Singh
Professionals in the same Marketing / Advertising / Public Relations sector as Iqbal Singh
Professionales offering Admin - Social Media Managers services
Professionales offering Personal Fashion Stylist services
Professionales offering Admin - Social Media Managers services
Professionales offering Personal Fashion Stylist services
Professionals from different sectors near Shimla, Shimla district
Other users who are called Iqbal
Jobs near Shimla, Shimla district
---

SearchEngineACE

Shimla, India

Need Content Writers for website content in technology and travel niche. · We are in need of talented Remote Content Writers to create compelling blog posts, articles, product descriptions, and social ...

---

Chandigarh University

Gharuan, India

Knowledge/ Experience of AIU Events · - Knowledge of Ms Word and Excel · - Must have good creativity skills · - Knowledge of Painting, Poster Designing, Drawing and Sketching.

---

Syed Suhail Hiring For AgriCentral

Baddi, India

Full time

Analyzing existing operations, crops, livestock, staff, and financial documents and recommending improvements. · Preparing plans and schedules for planting and harvesting and ensuring staff understand ...