3 years ago · 2 min. reading time · ~10 ·
Searching For Tigers in Ranthambore on Permit
Being one of the best tiger reserve in India Ranthambore is most sought after destination in Western India. It is part of the popular Golden Triangle Circuit which includes New Delhi, Agra, Jaipur and often Ranthambore.  But the popularity of this National Park has another reason and that is easy sighting of the big cats.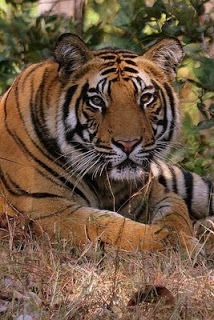 There are good number of big cats in the park besides other enchanting animals like the sambar, Nilgai, gazelle, chital and the barking deer. Among the most coveted species are the tiger, leopard, hyena and the sloth bear. In the lakes of the reserve the tourists can witness tug of war between the tiger and the marsh crocodile whence they chance upon a deer in the water.   
Most passionate activity among the tourists is to search for the tiger and this occupies lot of time during the safaris. While there are many enchanting animals and birds to see at this destination the fascination with the big cat is overpowering without any doubt.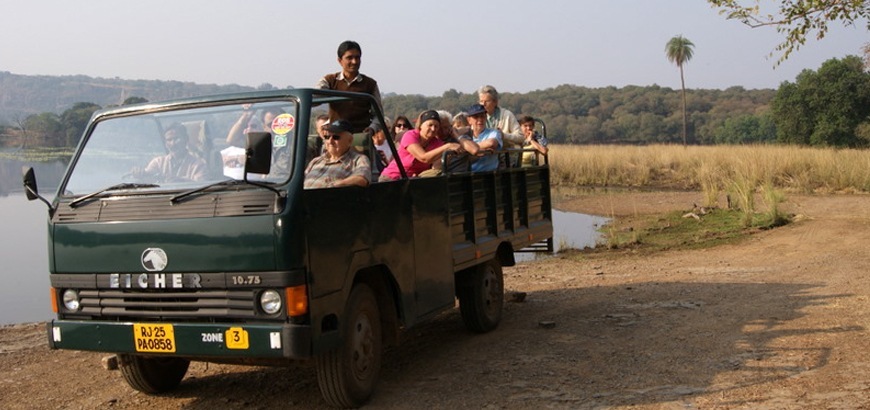 Tourists have to book a permit in advance without which they cannot enter for excursions. This is often done with the hotel they are planning to stay at. Regular visitors do not face much difficulty in the prerequisites but first timers should make all arrangements before hand. Once the permits are availed for morning and evening ride you can be assured of a good time. 
But sightings can at times be disappointing and hence much spade work has to be done. The tourism zone of the park is divided into ten mini zones for which the permits have to be issued.And you can only search in the nominated zone in the permit. So which zone accords the best sightings?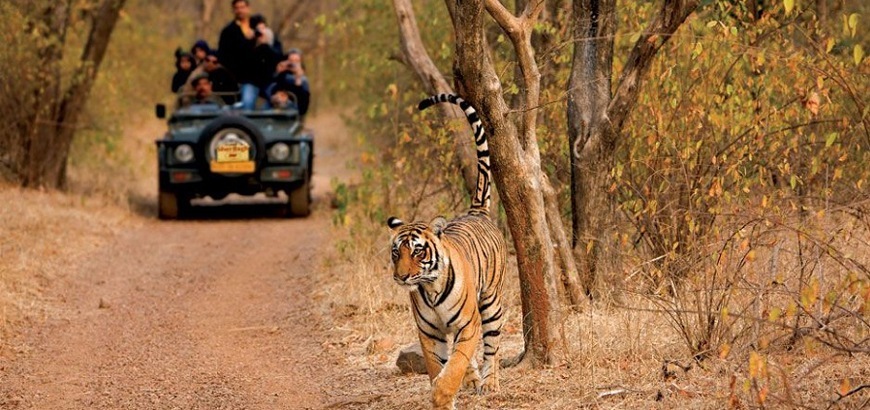 This is a difficult question and for new comers they have to rely on the accommodation provider. Well regular visitors this is not much of a problem for they know in which zone the sightings are maximum and they book that well in advance. But this is not axiomatic for the big cats keep on moving and hence sightings at each zone is subject to change time to time. So as a new comer you should keep in mind to book in the core area and not in the buffer. The sightings are usually good in the core while they are poor in the buffer. If you visit the booking website you should come to know which is which. 
safari charge at Ranthambore has to be paid while booking. Whether you are going for a ride in a canter or open jeep pay online while booking. Two game rides are organized one in the morning and other in the evening.  For wildlife photographers, filmmakers and nature enthusiasts full day safari option is available at a greater charge inquire about it. Best of luck!
You may be interested in these jobs
Found in: Talent IN± - 1 day ago

---

Talent hive

Tiruchirappalli

Job responsibilities: · Managing partners to generate sales for products like Mutual Funds, PMS/MLDs, Debentures, Bonds, AIFs and LI (In house & 3rd party products) · Doing various training programs for partners to train them for various products · Acquire new partners if existin ...

Found in: Talent IN - 3 days ago

---

Applied Materials

Bengaluru

Full time

Must Have Skills: · SAP CRM Technical, ABAP, Web UI, AET, BOL, BADI, UI Configuration · ALE/IDocs · Work Experience: · Experience in CRM WEB UI · Advance Enhancement tool (AET) · Worked on BOL Programming · Good knowledge of BADI Implementations · Reporting- Classical Reporting, ...

Found in: Talent IN± - 1 day ago

---

Your TeamCheck Point is looking for a Help Desk Team Leaderto join the IT team and take part in leading the service to Check Point's employees around the world. · You will lead a young, dynamic, and fast-paced environment and work with cross-functional teams to provide the best s ...